#DumpStarWars: Alt-right supporters urge cinemagoers to boycott Rogue One
Campaigners have called out the popular sci-fi franchise for its supposed 'anti-white agenda'.
When Rogue One: A Star Wars Story is finally released next week, cinemas are sure to be filled with fans of the franchise, who are eager to see the latest instalment. But in a galaxy not too far away, protesters have emerged online over the last few days, campaigning for people to boycott the film because of its promotion of diverse and multicultural societies.
According to Forward.com, the alt-right campaign gained traction on InfoStormer.com. "Nearly all of the major characters are non-Whites and the main character is an empowered White female," one poster suggested. "This film should be boycotted." Meanwhile others accused the film of being religious propaganda, due to fact that Jewish producers and writers were involved in production.
On Reddit, further supporters of the recent supremacist movement candidly wrote: "They are brainwashing kids into hating white men. All the villains are white and all the 'good guys' are minorities and women."
Twitter user Jack Posobiec, who is reportedly the "special projects director" for a group called Citizens for Trump, revealed to Esquire that he "started [the hashtag #DumpStarWars]" on Thursday (8 December) "with a Periscope in response to the writers of Rogue One calling Trump a Nazi." He also claimed that Lucasfilm had reshot the film to "add in Anti Trump scenes," and explained to the publication that he had previously been a "big time" Star Wars fan and was "really excited" to see Rogue One.
This is hardly the first time George Lucas' hugely popular sci-fi series has faced backlash along these lines. Back when Star Wars: The Force Awakens was gearing up to be released in December 2015, men's rights activists urged cinemagoers to boycott the movie because its two lead characters were being played by a woman and a black actor, Daisy Ridley and John Boyega respectively. Similarly to the negative attitudes towards Rogue One, they claimed that the film was trying to push a "non-white and female agenda", hailing Boyega's Finn as a "glorified white knight" and Ridley's Rey as a "Mary Sue".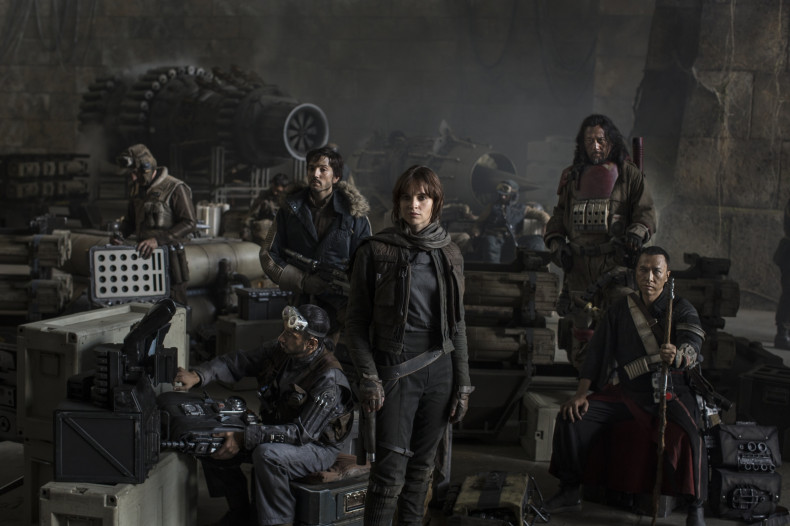 It's not the first time that the Star Wars franchise has been linked to political climates either. Back when the original films came out in the 1970s and 1980s, it was believed that they drew reference to Nazi-era imagery and were reportedly seen as explorations of the dangers of fascism. More recently, star Mark Hamill who plays Luke Skywalker, labelled President-elect Donald Trump's newly-appointed cabinet as a "who's-who of really despicable people," and Rogue One writers Chris Weitz and Gary Whitta took to Twitter to write; "Please note that the Empire is a white supremacist (human) organization.... Opposed by a multicultural group led by brave women."
Rogue One: A Star Wars Story revolves around a group of rebels who plan to infiltrate the Imperial Army base to steal plans for iconic superweapon, the Death Star. Starring Felicity Jones, Diego Luna, Mads Mikkelsen and Forest Whitaker, the film opens in UK cinemas on 15 December 2016, and comes out in the US on the following day.