Dragon's Den star Duncan Bannatyne has branded vice-chair of West Ham Karren Brady a "total coward" after she accused him of acting like a "silly old fool" by flaunting his relationship with his 36-year-old girlfriend. The 66-year-old millionaire regularly uploads photographs of himself alongside dental receptionist girlfriend Nigora Whitehorn, including a recent image of the couple kissing which prompted mockery and revulsion in equal measure on social media.
In response to the jeering Bannatyne faced, Apprentice star Brady said: "For a seriously clever entrepreneur, Duncan Bannatyne is acting like a silly old fool." Writing in her column in the Sun, Brady added: "At 66 he has taken up with his second mid-30s partner this year and flaunts it by posting a hilariously repulsive picture, above, of him snogging this young lady."
Baroness Brady went on to compare Bannatyne to a "deluded prune", accusing him of having facial surgery, quoting the late comedian Joan Rivers to say: "If you tighten a prune you don't get a grape. You just get a tight prune."
She also claimed that women are laughing at the millionaire behind his back and "fingering for his thick wallet". She finished her column with the words: "I'm sure there are millions of reasons why she is with him!"
Bannatyne has now responded to Brady's comments, sending several social media messages directly to Brady. "Brady is a complete coward to attack my GF in this way. Total coward Brady," he wrote.
The exchange with Brady is just the latest example of Bannatyne losing his cool on social media. Shortly before Christmas, the millionaire was embroiled in a very public Twitter spat with a child and his father when he accused the 13-year-old boy of being rude while asking for business advice.
The row began when a user calling himself Rocco Rose, who claimed to be a 13-year-old boy from Darfield in South Yorkshire, sent Bannatyne a message asking for tips on building a business plan.
When the entrepreneur failed to respond to his request, Rocco sent a follow-up tweet days later, reading: "Hey, I asked you for an idea for another business plan of what I can do. I took up buying and selling stuff online. Thank you!"
The second message appeared to irritate the 66-year-old entrepreneur, however, who entered into a heated exchange with the child. "I know you did and I ignored you. Who do you think you are?," millionaire Bannatyne wrote. "A young boy wishing to grow up like you, an entrepreneur. I look up to you," Rocco replied.
Bannatyne's surly retort sparked criticism from many of his 770,000 Twitter followers who pointed out that the boy had requested business tips politely. One user told Bannatyne that Rocco was just a 'child asking for advice from his idol'.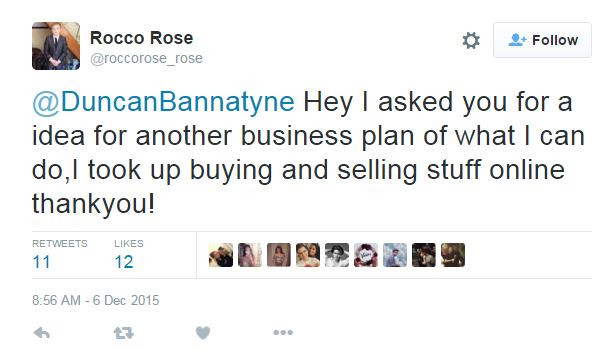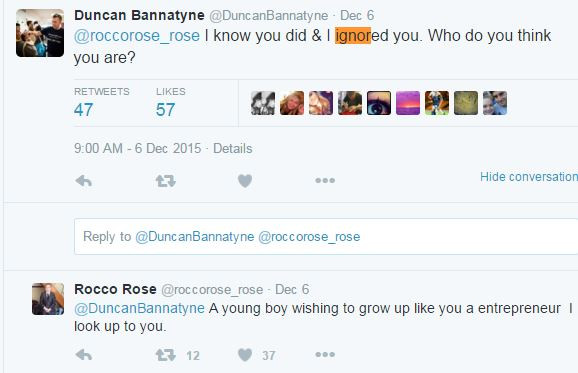 The Dragon's Den star appeared unfazed, however, demanding his followers not tell him how to run his Twitter account. Rocco meanwhile responded to several messages himself, saying his forgives Bannatyne.
The row continued when another Rose-family account began sending messages to the entrepreneur. The user claimed to be Rocco's father Jason and berated Bannatyne for the aggressive messages directed at his son.
When Jason Rose posted a message saying his son was well-mannered and suggesting Bannatyne "be a man" and apologise, the entrepreneur replied publicly mocking Rose, telling him he needs grammar lessons.
Rose replied with a series of aggressive messages before challenging Bannatyne to a boxing match with all money going to charity as a way to "settle" the row, to which entrepreneur replied: "This man must be a terrible dad to suggest this."