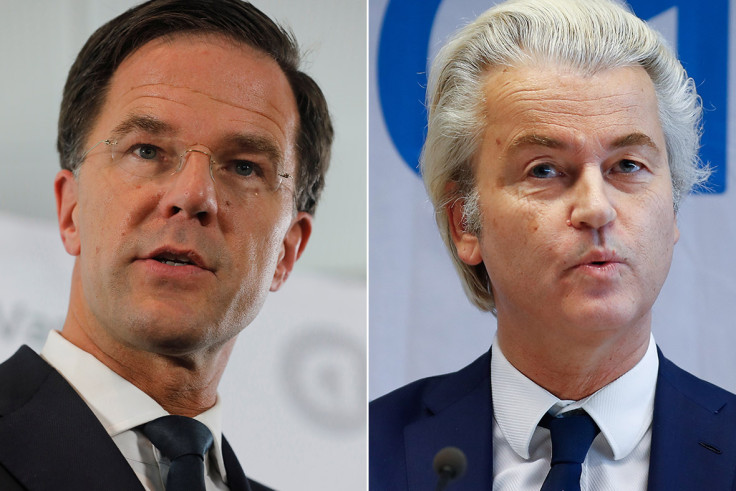 The Dutch prime minister Mark Rutte's party is on course to win the country's parliamentary elections, according to an exit poll published by Ipsos.
His centre-right VVD party has won 31 out of 150 seats, the poll suggests, which was well ahead of Geert Wilders' anti-immigration Freedom Party (PVV), the Christian Democrat Party and the Liberal Party, which got 19 seats each.
Campaign leader of Rutte's party, Tamara van Ark, said: "I am so proud at what has happened and happy that we have been given the trust again", the Associated Press reported.
Rutte said: "We want to stick to the course we have - safe and stable and prosperous."
But Wilders, who had been hoping for a better result with his brand of far-right anti-immigration rhetoric, tweeted: "Rutte has not seen the back of me!!"
The Labour Party (PvdA) appeared to suffer a historic defeat. The VVD's coalition partner has lost 29 seats and has fallen far behind the other left-wing parties with only nine seats predicted by Ipsos.
Jesse Klaver's Green party (Groenlinks) has gained 12 seats and is set to become the largest left-wing party in parliament, although amid the horse-trading ahead, much will depend on whether the coalition will be dominated by right-leaning parties.
Although VVD said it would form a coalition with the Freedom Party, they could do a deal with the runners-up, the Christian Democratic Appeal (CDA) party, and the Democrats 66 (D66) party.
Turnout was high, reaching 82%. The election in the Netherlands was seen as a bell weather for populist parties in other upcoming ballots in the EU, such as France next month and Germany in September.
The former president of the European Parliament Martin Schulz said he was "relieved" Wilders' party had lost.
The EU Commission chief Jean-Claude Juncker said the result showed a "vote for Europe, and a vote against extremists".