Geert Wilders: How did an outsider and social recluse win so many Dutch hearts?
Wilders' family describes him as 'egocentric and aggressive' but he is a hit among disillusioned voters.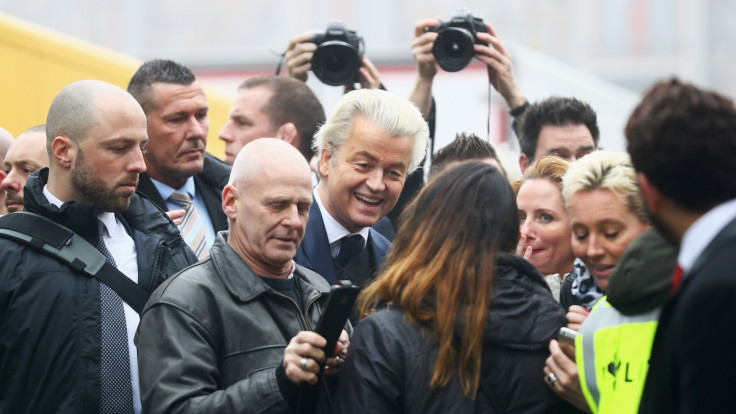 After he called off all public engagements due to security concerns, anti-Islam politician Geert Wilders returned to the campaign trail this week, in a final attempt to boost his ratings before the election on 15 March.
The populist leader of the far-right Freedom Party (PVV) has dropped to second place in the polls, behind Prime Minister Mark Rutte's Party for Freedom and Democracy (VVD), for the first time since November.
Flanked by bodyguards, Wilders made a surprise visit to the small fishing village of Volendam, a PVV stronghold just north of Amsterdam, where he spent the afternoon drinking beer, eating fried fish and posing for selfies with residents.
The 'Wilders effect' cannot be denied. The politician has been trending on Twitter and dominating the news cycle since the start of the election campaign. His populist rhetoric and pledge to 'make the Netherlands ours again' has struck a chord with young and old voters around the country.
Wilders claims to speak for ordinary Dutch people who feel they have been ignored by the establishment. Yet he leads a life that is far from ordinary. He has lived in a security bubble for the past 13 years, travelling with a team of bodyguards wherever he goes. He has little contact with anyone outside of his security team and Parliament, according to his brother who told German newspaper Der Spiegel that Wilders is "socially isolated and alienated from everyday life." He and his wife have been living in a secret location ever since the assassination of anti-Islam Dutch filmmaker Theo van Gogh in 2004 after police discovered that van Gogh's killer also planned to murder Wilders and anti-Islam author Ayaan Hirsi Ali.
In an interview with Dutch broadcaster Rik Nieman, Wilders described how restricted his life has become. "I can hardly remember what it's like to cross the road alone. I wouldn't wish it on my worst enemy. But at least I know why I do what I do. My mission is to make sure The Netherlands, unlike my own life, remains free," he said.
"Few politicians have as little contact with the people as Geert. This isn't good for anyone," his brother Paul told der Spiegel. And yet a man who rarely interacts with his fellow citizens has managed to connect with millions of people. The PVV is predicted to win 15% of votes, trailing just behind the VVD, according to a poll published on 9 March.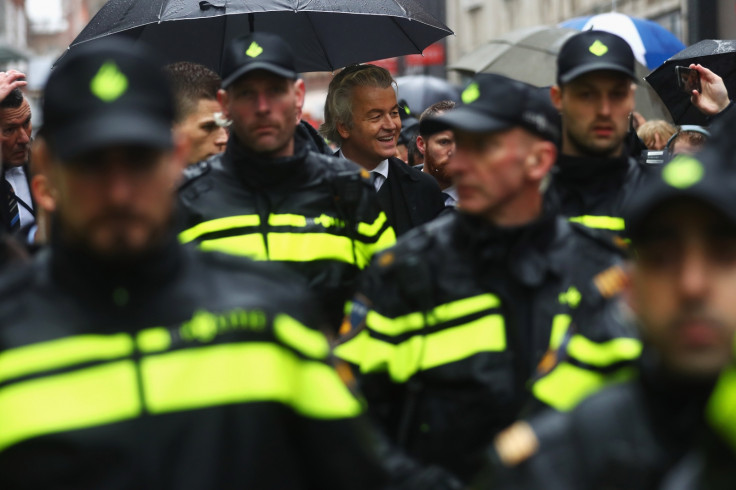 Geert Wilders is an incongruous politician who seeks a direct connection with the electorate but has so far not taken part in a televised debate. His first and only appearance will be two days before the election, 13 March, when he is set to debate his main rival and former coalition partner Prime Minister Mark Rutte.
Wilders prefers to share his thoughts on Twitter, drawing comparisons with Trump. Both politicians have effectively harnessed social media to communicate with voters via a series of one-liners rather than lengthy policy discussions.
"The rise of social media has ushered in a new phase for populism," according to Jos de Mul, Professor of Philosophical Anthropology at the Erasmus University in Rotterdam. "Twitter with its 140-character restriction aligns perfectly with the populist tendency to simplify political issues: 'Throw all foreigners out of our country!'" he wrote in the Erasmus magazine.
Wilders has been dubbed the 'Dutch Donald Trump' by international media, but his populist rhetoric and pledge to ban immigration from Islamic countries came long before Trump floated the idea of running for president. According to his brother, Wilders' already held "extreme" views on Islam and immigration as a teenager. "He was a horrible pest, egocentric and aggressive," he said, adding that Wilders would not want to rule in a coalition government. "He has tunnel vision, and he doesn't believe in compromise."
He is hugely unpopular in Parliament, with politicians accusing him of "poisoning" Dutch society. All major parties have refused to work with him, making it unlikely that he will be in the coalition. Rutte, who was accused of pandering to PVV voters after he published a letter telling immigrants who do not respect Dutch customs to leave, has repeatedly stressed that he will not collaborate with Wilders. The two leaders were previously in a coalition together which collapsed after two years when the PVV withdrew its support following an impasse about the state budget.
Many people have questioned whether Wilders actually wants to be part of the coalition, arguing that the prefers to remain on the sidelines as it allows him to freely criticise his opponents without taking responsibility and having to compromise.
"A large coalition of many mainstream parties will be good news for Wilders," Professor Matthijs Rooduijn, a political sociologist at Utrecht University, told IBTimes UK. "They will have to compromise and thereby they will give Wilders even more ammunition for his populist claims." He thinks the role of the victim and the outsider suits Wilders, pointing towards his surge in popularity following his hate speech trial in December 2016.
"He very successfully framed that as an attack of the established elite on him - and thereby on his voters. It provided a fertile breeding ground for his populist claim that the elite tries to exclude him and thereby does not listen to ordinary citizens."
Wilders' lack of support in Parliament appears to have heightened his popularity among voters. His anti-immigration and anti-establishment message has resonated strongly with voters who are angry and disillusioned with mainstream politics. The current coalition between the Labour (PVDA) and Conservative (VVD) parties has left many people feeling that "nothing ever changes."
The day after Wilders' spontaneous visit to Volendam, PVV voters told IBTimes UK that the far-right populist represents change. They admire him for his straight-talking politics, which they welcome as a refreshing change to the "hypocrisy" and "lies" of other politicians.
"Our government just lies. They promise money for the elderly but then we end up on the scrap heap," pensioner Annabel said while shopping at the market in Volendam. "Wilders isn't hypocritical like the rest - slick politicians with their slick smiles. He says what half of the people in The Netherlands think. If I say there should be less Moroccans in our country, should I be prosecuted? What if that's my opinion?"
Her husband, Gerrit, is voting for the Green party but is not opposed to Wilders. "The PVV are shaking up the system and that is important," he said.
Market seller Renata Kunkels said that she is voting for Wilders even though he "doesn't have a proper election programme."
"Our government needs a shock to realise that it is not going well in The Netherlands," she said.
In Venlo, Wilders' hometown, his promise to crack down on immigration has struck a chord. "Many people here are voting for the PVV because of the foreigners," said Monique van Zwam, who works behind a fish stall on Venlo's main square.
"They keep arriving. All the refugees coming here want a car, a mobile phone...but they don't do any work. Dutch people are losing opportunities to foreigners coming in. I feel [immigration] is setting The Netherlands back."
There are very few refugees and asylum-seekers from Islamic countries in Venlo, according to Gert Reitsma, the director of a local asylum centre. He thinks the PVV is doing so well because of an increase in 'protest votes' against the establishment government. "I get the impression that many people are voting for the PVV out of anxiety and fear and general dissatisfaction, not because they have had a bad experience with Muslims and are against the Islam."
Paul Wilders said his brother is "taking advantage" of the atmosphere of fear and dissatisfaction, not just in The Netherlands, but across Europe. "[He] offers seemingly simple solutions: out with the migrants, close the borders, exit the EU. But our problems are far more complex. Geert peddles illusions to people."
Immigration figures
In 2016, 18,171 people claimed asylum in The Netherlands, over 50% less compared with the previous year (43,093). Most asylum-seekers came from Syria (2,158) and Albania (1,664). The significant drop in immigration was due to an EU deal with Turkey that curbed the number of migrants entering Europe.
Immigrants (1st and 2nd generation) made up 22% of the total population (16,979,120) in 2016. The largest immigration groups in The Netherlands are Moroccans (385,761) and Turks (397,471).
Source: Vluchtelingen Werk Nederland and CBS
© Copyright IBTimes 2023. All rights reserved.