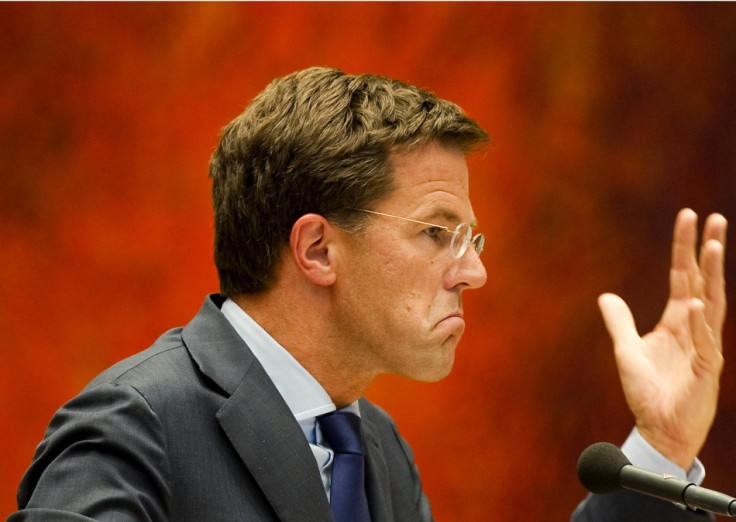 Dutch lawmakers from opposing parties have reached a crucial agreement on a financial package that can cut the deficit down to meet strict EU targets, after banging heads in desperate budget talks following the collapse of the incumbent coalition government.
According to Reuters news agency the leaders from Dutch opposition parties Democrats 66 and the Christian Union confirmed an agreed deal would be taken to their elected representatives for approval late on Thursday.
Politicians in Holland's parliament must reach agreement on a 2013 budget by 30 April, a deadline set by the EU, or risk spooking the bond markets in a summer of uncertainty until fresh elections take place in September.
"We have made good progress but you cannot say an agreement is yet in sight," Dutch finance minister Jan Kees de Jager told reporters at a press conference.
Elected representatives from the Liberals, Christian Democrats, Democrats 66, Christian union, and GreenLeft are all negotiating budget details.
De Jager is well known for railing against EU "budget sinners" when he criticised member states who had high debt levels.
Holland's Debt and Deficit
Holland's debt is worth around 65 percent of its GDP and its budget deficit was 4.7 percent.
Under an EU fiscal compact agreed at a March Brussels summit member states must get deficit levels down to 3 percent.
A budget was proposed by Liberal Party leader and Dutch prime minister Mark Rutte that would meet this target and required austerity cuts of €14bn (£11bn), but his coalition partner Geert Wilders, leader of the Freedom Party, refused to agree.
Rutte was forced to resign his cabinet and declare a September election.
His biggest opposition is from the Labour Party, who along with Wilders want to reduce the deficit to 3.6 percent at the most for 2013, in order to protect economic growth in the country.
Labour leader Diederik Samson has claimed that "exceptional circumstances" should allow for movement in the EU's 3 percent target.
If the Dutch are allowed to forego their deficit obligations because of political disagreement, there are fears that others in the EU with worse budgetary situations will also rein in from the original agreement and unsettle bond markets, exposing them to the risk of high or even unsustainable borrowing costs.
"There is a risk if you immediately start watering down the rules of the game. The Netherlands has a role in this but, more important will be the direction in France," ING economist Maarten Leen told Reuters.
He also thinks that political parties are willing to get around the table and agree is a good thing - but he doubts the Dutch will reach the 3 percent target in the next year.
"I think they'll arrive between 3.5 and 3.75 percent next year," Leen said.
Dutch AAA Rating Risk
Credit rating agency Fitch said Holland is capable of hitting a 3 percent deficit in 2013 and that failure to do so threatens the country's AAA status.
"Our base-case expectation is that the deficit will be brought down to 3 percent in 2013, with the public debt ratio stabilising thereafter," said a Fitch statement.
"However domestic policy uncertainty has increased, while financial and economic risks from the eurozone crisis remain significant.
"If it becomes clear that our base-case is unlikely to materialise, pressure on the rating will increase."
Dutch two-year bond yields actually fell 16 basis points to 0.36 percent at an auction on 24 April, as investors remained optimistic of a budget agreement over deficit reduction.
An auction of 15-year bonds was also held and around €2bn of Dutch debt was sold overall.