Philippine President Rodrigo Duterte has accused the US of putting Asian stability at risk by deploying arms and possibly even nuclear weapons permanently in his country. The firebrand leader, who openly shifted the Philippines' allegiance away from Washington to Beijing last year, has threatened to cancel a security deal between the two sides.
"They're unloading arms in the Philippines now ... I'm serving notice to the armed forces of the United States. Do not do it, I will not allow it," Duterte told a televised news conference on Sunday (29 January).
"Under provisions of the Visiting Forces (Agreement), there shall be no permanent facilities. A depot is by any other name a depot. It's a permanent structure to house arms. I do not even know if there is a nuclear tip (missile) now, that they are unloading," he added.
His comments came after the Pentagon was said to have approved new warehouses, runways and barracks to store the weapons in three provinces of the Philippines under a defence treaty. Duterte accused Donald Trump's administration of violating the deal by building the arsenals in his country.
The Enhanced Defence Cooperation Agreement signed between the long-time allies in 2014 is believed to allow the US to deploy equipment in the Southeast Asian nation only for humanitarian missions or maritime security operations. The deal allows for the expansion of rotational deployment of US ships, aircraft and troops at five of its bases.
Duterte threatened to review the treaty if the US pursues its actions "and maybe ultimately abrogate, since it is an executive order", Reuters cited the Filipino leader as saying.
"You are egging us ... egging us [on] to force the issue of arbitral judgment," he said, referring to the US pressure on Manila to enforce a ruling by the Permanent Arbitration Court in the Hague in July 2016 that invalidated most of Beijing's claims to islands and territories in the hotly contested South China Sea.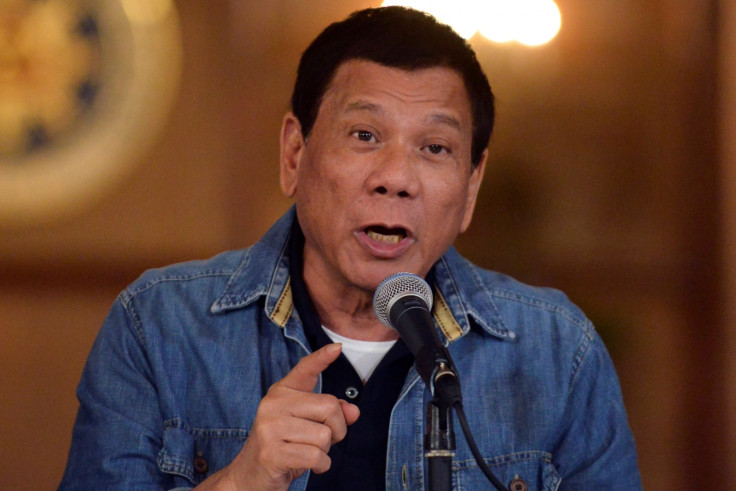 "The missiles of China are pointed at the American expeditions," Duterte said, referring to its naval patrols. "A depot would serve as a supply line."
When asked about discussing the territorial dispute with Beijing, he said he would do so at the right time.
"I made a commitment to President Xi Jinping, I made a solemn commitment that we will talk about this arbitral award during my term. When, I really do not know, but we will talk hard," he said.
Duterte added that he had an "urgent" message for China, seeking precision-guided missiles in order to step up the fight against Islamist insurgents in the Philippines' southern region.