The Philippines has decided to dissolve its anti-narcotics units following the death of a South Korean businessman at the hands of rogue police officers. At a joint press conference with President Rodrigo Duterte, Philippines National Police (PNP) Director General Ronald dela Rosa said new units would be set up but the change could disrupt the progress of the campaign.
"We will dissolve all anti-drugs units in the police," Dela Rosa said. "I will do my job to the best of my ability. I hope I will not fail the president and the Filipino people."
Duterte explained that the new units would be partnered with the Philippine Drug Enforcement Agency (PDEA). He vouched for the agency's chief Isidro Lapeña who had served as the chief of police during Duterte's term as mayor of Davos.
"I will establish a new command. It could be a narcotics command or whatever appropriate name. But the name is not important," said Duterte. "The overall head is the PDEA. Like my older chiefs of police, Isidro (Lapeña) is once upon a time also a chief of Davao. I have no reason to doubt his integrity."
The overhaul is a bid by the government to eliminate corruption from the police force. Duterte expressed embarrassment over the high-profile kidnapping of South Korean Jee Ick-joo from his home in Angeles city, near Manila, in October under the pretence of a drug raid. The assailants then strangled him on the grounds of the national police headquarters but pretended that he was still alive so that they could extract a ransom from his family.
Some of the suspects are still at large and have been given 48 hours to turn themselves in. Duterte said he would otherwise have a dead-or-alive bounty of five million pesos ($100,000, £79,882) on their heads.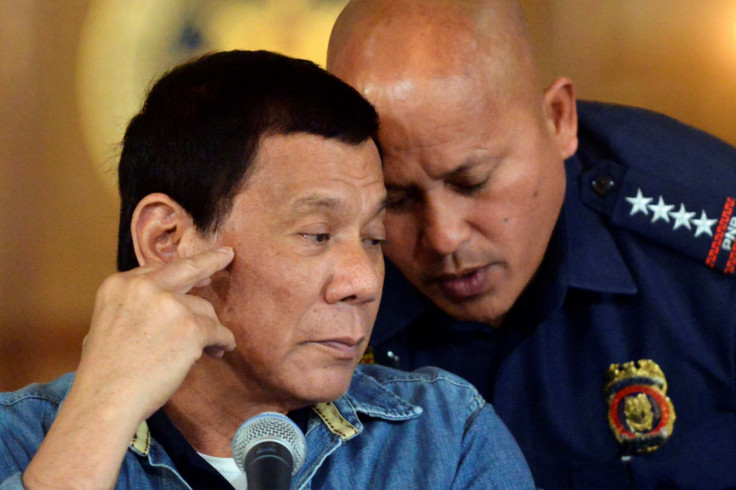 "You policemen are the most corrupt. You are corrupt to the core. It's in your system," he said, adding that he thought up to 40% of policemen were used to corruption.
Duterte allowed extra-judicial killings in his war on drugs and even agreed to pardon policemen who killed criminals. Defending his decision, he said he would continue to protect the police but "won't protect lying".
The war on drugs was expected to last only six months and end in December 2016. However, Duterte extended it till March this year and now plans to keep it going right up to the end of his tenure in 2022.
"I will extend it to the last day of my term... March no longer applies," he said, insisting that he had underestimated the extent of the problem. "I do not give a s**t, I have a duty to do, and I will do it."