Philippine President Rodrigo Duterte, who is known for his harsh stance against crimes in the country, is reported to have pleaded with Muslim rebels groups on Friday (27 January) asking them to avoid providing shelter to militants liked with Islamic State (Isis) group.
The firebrand president warned that failing to eliminate the terror outfits would result in a war that could ensue putting civilians in danger.
Duterte's appeal comes a day after Filipino defence minister cited foreign intelligence reports as showing that a leader of the Abu Sayyaf rebel group was receiving orders from IS members to make advance in the Philippines.
It is reported to be the strongest signal yet of links between the small but violent Abu Sayyaf militants and IS group.
Duterte called the two Muslim rebel groups of the Philippines – the Moro Islamic Liberation Front (MILF) and the Moro National Liberation Front (MNLF) – to rebuff the IS' advances.
"I am earnestly asking, I am pleading to the MNLF and the MILF, do not provide sanctuary to the terrorists in your areas," he told troops at a military camp in his home region of Mindanao.
"Because if that happens, then we will be forced to go after them within your territory, and that could mean trouble for all of us. I don't want that to happen. The government is going after them, they have done wrong, they killed a lot of innocent people," Reuters cited him as saying.
Last month, Duterte had ordered his soldiers to eliminate Islamist militants from the region, giving them a six-month deadline. The southern part of the nation has long been witnessing a long-festering insurgency by the growing influence of IS militants.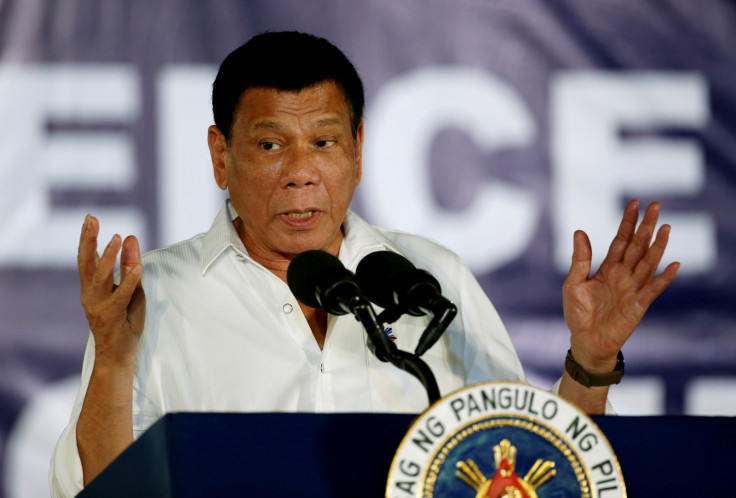 The president is also thought to be worried that some smaller groups and splinter faction have pledged allegiance to IS and that they might provide sanctuary to those fighters who were being driven out of Syria or Iraq.
Two such groups are Abu Sayyaf, whose stronghold is the Sulu Archipelago near Malaysia and Maute group in Lanao del Sur province.
Abu Sayyaf militants have been notorious for piracy and abducting yacht owners and coast guards, and tourists from several European countries. The militants are known to hold hostages and go to the extent of beheading them if ransoms are not paid.