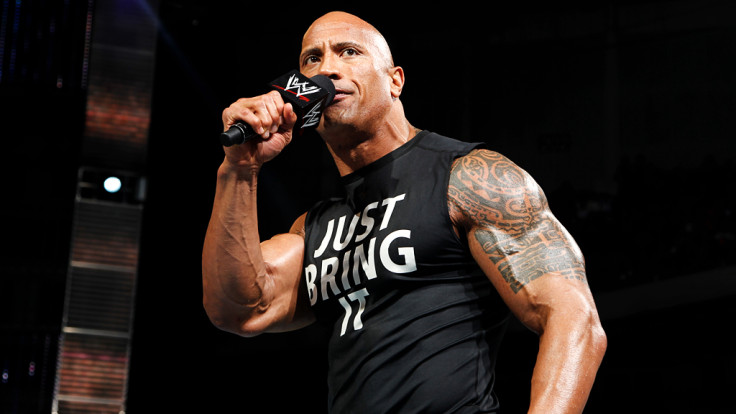 Dwayne 'The Rock' Johnson will be starring in a film adaptation of Robert Ludlum's best-selling novel The Janson Directive for Universal Pictures. The novel was published in 2002, a year after the death of the author.
The movie will launch an action-packed cinematic universe, in which a former operative by the name of Paul Janson, gets tangled up in a conspiracy after taking up a mission. Truth writer/director James Vanderbilt will be adapting the novel from a story that will be co-authored with Oscar-winner writer Akiva Goldsman.
Vanderbilt will also co-author two more stories based on Ludlum's book to give shape to the action universe. However, it is not clear whether the actor will star in the next two chapters of the franchise.
"The Janson Directive is classic Robert Ludlum," the 44-year-old actor told Hollywood Reporter. "Sharp, edgy and layered storylines. The character is complex, conflicted, bad*** and lethal — I can't wait to sink my teeth into this and bring him to life. Between Jamie, Akiva, Captivate and Universal, it's an exciting time to help produce and build out this awesome Ludlum universe."
"I've been obsessed with Robert Ludlum ever since I was a kid, and the opportunity to play in this sandbox and create an interconnected universe based on the works of one of the best espionage writers of all time is a dream come true," Vanderbilt said.
Producer Ben Smith said: "James has a deep understanding of the unique themes that run through Robert Ludlum's novels, many of which are more relevant to today's world than when they were published. [Universal's] Donna Langley, Jimmy Horowitz, Peter Cramer and we at Captivate have discussed building a connective world with Ludlum's works and found an ideal creative partner in James to craft this visceral, grounded, cinematic universe. Dwayne Johnson is the perfect actor to bring Paul Janson to the screen, and we are thrilled to have him as a cornerstone of this exciting franchise."
The former WWE wrestler will also be involved in the movie as an executive producer alongside Seven Bucks Productions' Dany Garcia and Mythology Entertainment's Tracey Nyberg.