The Department of Work and Pensions (DWP) has admitted using fake claimant stories and photos to promote one of its leaflets on benefit sanctions. The government department has withdrawn the leaflet regarding Employment and Support Allowance (ESA) after it admitted two of the supposed claimants discussing their examples on using the system are in fact not real and their comments were faked.
The DWP admitted the photos used in the leaflets are stock pictures and the stories attributed to them are for "illustrative purposes only" following Freedom of Information (FOI) requests by Welfare Weekly. One of the comments, provided by "Sarah", says how she was docked payments because she did not re-draft CV and missed a meeting with her work coach.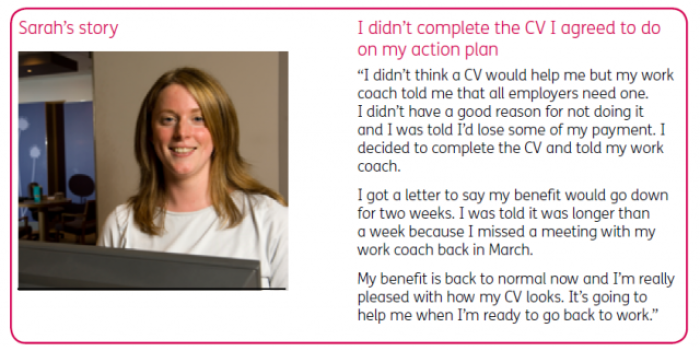 "My benefit is back to normal now and I'm really pleased with how my CV looks. It's going to help me when I'm ready to go back to work," she added.
Not only is Sarah's story not real, as pointed out by Political Scrapbook, the photo of her has been used before by the DWP for its Universal Credit website for a section of how to "stand out from the crowd" while applying for work.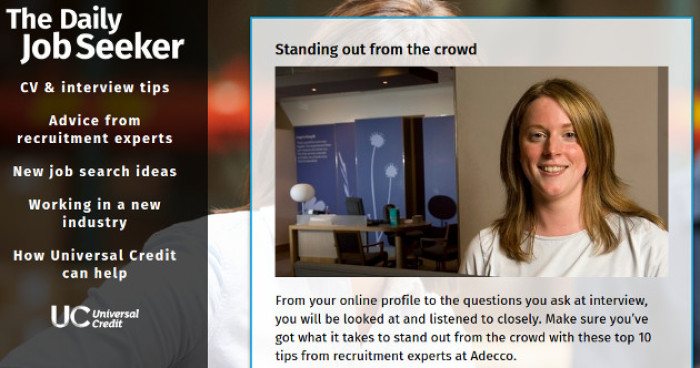 A second comment from "Zac" added: "I let my work coach know in advance that I couldn't go to our meeting because I had a hospital appointment. I had a good reason for not going to the meeting and proof of the appointment. My benefit payment hasn't changed and we booked another meeting I could get to."
The DWP said the stories from Zac and Sarah were made up in order to "help people understand when sanctions can be applied and how they can avoid them by taking certain actions".
A response to Welfare Weekly's FOI added: "The photos used are stock photos and along with the names do not belong to real claimants. The stories are for illustrative purposes only. We want to help people understand when sanctions can be applied and how they can avoid them by taking certain actions. Using practical examples can help us achieve this.
"We have temporarily changed the pictures to silhouettes and added a note to make it more clear that these are illustrative examples only. We will test both versions of the factsheet with claimants and external stakeholders to further improve it in the future. This will include working with external organisations."
The DWP has previously been accused of "planting" fake tweets that praised its Universal Credit scheme. The claims arrived after a tweet reading "Thanks to #UniversalCredit, I'm in a permenant (sic) job now" was posted on the DWP press office Twitter account without being attributed to anyone in particular.
A DWP spokesperson at the time denied the claims to IBTimes UK as "utter, utter nonsense". A spokesperson added the department was to include a photo of a woman named Natalie in the tweet as an example of the success of the Universal Credit scheme.