Dyson has launched its latest top-of-the-range cordless vacuum cleaners in the UK in the form of the Dyson Absolute and the unconventional-looking Dyson Fluffy.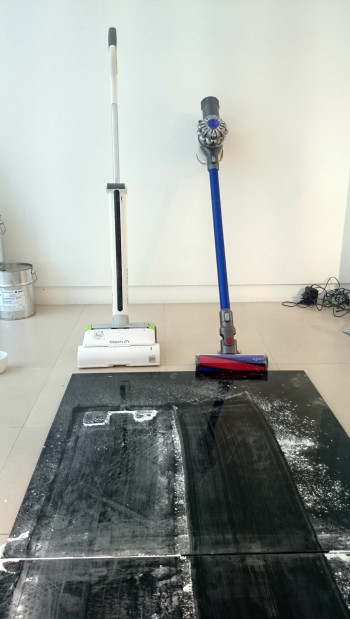 Both models are powered by the company's latest V6 motor. Around £250m ($373m) in research and development went in to the development of the motor, which at 110,000rpm spins five-times faster than a Formula One car engine.
"We've invested more than £250m in developing our own patented motor which spins at up to 110,000rpm," Sir James Dyson said. "The power-density that this provides means our machines remain nimble while providing more power than any other."
The unique design of the cleaner head of the Dyson Fluffy resembles a paint roller and performs in such a way that it is able to pick up fine dust with its carbon fibre filaments and large debris with the soft nylon material.
In tests carried out for IBTimes UK at Dyson's London office, the Fluffy proved effective in picking up fine particles of baking powder, as well as larger debris such as rice.
When put alongside the Gtech AirRam - named the best vacuum cleaner ever by the Daily Mail - the Fluffy was able to reach crevices and clean up the baking powder that the Gtech missed.
The Dyson Absolute features a more conventional cleaner head and is touted by Dyson as its most powerful machine to date.
"The Dyson V6 direct-drive cleaner head has 150% more brush bar power," the company said. "This agitates carpet pile more than any other cordless, tackling ground-in spills and stains. Efficient filtration removes 99.97% of particles as small as 0.3 microns, capturing allergens and expelling cleaner air [than it intakes]."
The Dyson Absolute retails for a recommended price of £449.99.