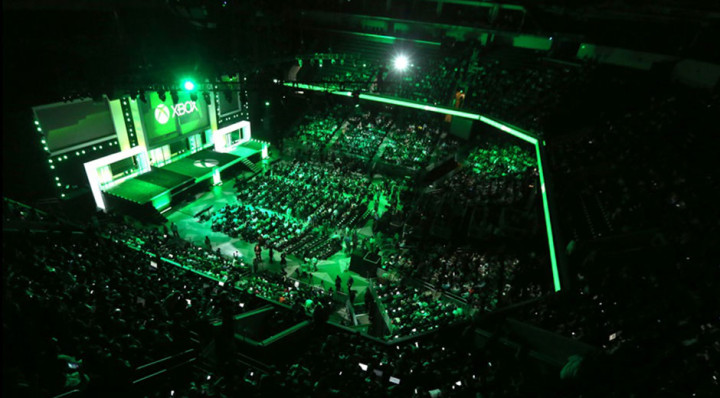 "If it's worked before, it'll work again." Microsoft's development leads must have that tattooed on their heads, because the company's line-up at this year's E3 was all about rehashing.
There was a remastered Halo boxset, a remake of Phantom Dust, a new Assassin's Creed, new Witcher, new Crackdown, new Fable – one after another the games were either sequels or re-releases, fan-pleasers, yes, but hardly inspiring.
This is E3
But this is E3, right? This is the time of year when console makers double-down on their big franchises and solidify their fan bases, so it's hardly surprising that Microsoft's show was heavy on existing IP – Sony and Nintendo will likely go that route as well.
However, games aside, there was something unoriginal about the Msoft presser. The "worked before, worked again" axiom seemed to extend beyond just the software. Essentially, this was a copy of Sony's PS4 launch at E3 a year earlier. Xbox head Phil Spencer went in heavy with praise for the fans, and a fat chunk of the show was dedicated to indies. Microsoft was emulating Sony's "This Is For The Players" campaign. There was no mention of multimedia, online memberships or even Kinect – it was just one game after another.
Smart, but hardly subtle. Following the Xbox One's spluttering launch in 2013, when everyone got on Msoft's back about not showing enough games, it was difficult not to notice how concerted the effort was to put software first this time around. It was jog along; it was after the fact. And frankly it's getting tiresome watching big corporations play catch-up with what they think are public tastes. About 40 minutes in, it was obvious that Microsoft was just pandering. The Dead Rising DLC, Conker in Project Spark, the Halo 2 multiplayer remaster – this was just obsequious.
Sony's PS4 conference last year was tactful, tasteful. Confidently, the company made one sage announcement after another: games could be swapped freely, indies would have a home and the price would be lower than the Xbox One. It was understated and direct. Microsoft, by contrast, at this year's E3, oversold itself. Arbitrary appearances by Conker in the Project Spark announcement and Tofu, from Resident Evil 2, in the Dead Rising 3 DLC, just seemed pleading. It was like Microsoft was begging forgiveness. It was sycophantic.
And despite all the games on show, there was only one that was genuinely interesting. Inside, by Limbo developer Playdead, looks like the first legitimate reason to get an Xbox One. There wasn't much shown – it was just a teaser – but it looks moody, complicated and adult. There were hints of Soviet oppression and the Cold War, but also the supernatural. It was a menacing trailer, which stood out particularly among all the coloured energy balls and bullets flying around in the other reveal vids.
Assassin's Creed: Unity looks the same as the other Assassin's Creed and Halo is still Halo. Call of Duty: Advanced Warfare is certainly visually impressive and of course, everyone will play it, but who cares? What's there to even say about Call of Duty? Everyone knows it, everyone gets it. It'll be fine. It'll be worth a go.
Tomb Raider
The same can be said for the new Tomb Raider, which had its world premiere at the Xbox show. The trailer had Lara talking with a psychiatrist about how the events of the first game had damaged her emotionally. It then cut to her doing some running, climbing and soliloquising about finding herself. It looked like business as usual. The only worrying thing is that Crystal Dynamics, the series developer, seems to have conflated trauma with character development. Rise of the Tomb Raider looks set to put Lara through the mill again, physically and mentally, as the writers try to build a sense of who she is as a person. It runs the risk of becoming fetishised, indulgent. Another game where Lara gets cut up and bruised, but at the end becomes "stronger" would be a bit patronising: it would simplify Lara, imply that battery is a shortcut to maturity. Hopefully that won't happen. Hopefully...
So, what else? Oh, it seems like the Kinect has been abandoned. It didn't get a single mention throughout the whole 90-minute show, let alone any new IP to support it. It seems like the once beloved (by Microsoft) peripheral has, for the time being, been sent to time-out. Maybe Microsoft is waiting for a great motion-sensitive game before wheeling it back out.
With all that taken into consideration, and personal tastes aside, this was a decent show from Microsoft. It's what it needed after last year's various PR debacles, and certainly a good foundation going forward, as the Xbox One tries to compete with the now more successful PS4. All the crowd-pleasing franchises were on display, along with a handful of new and independent properties that'll keep Xbox cynics guessing. From the original console to the 360 and the One, the Xbox label has always been about the heavyweight, tried and tested IP, the fanboy market. If Microsoft made a mistake by ignoring that last year, it's turned back around with a grounded, self-assured presser at this E3.