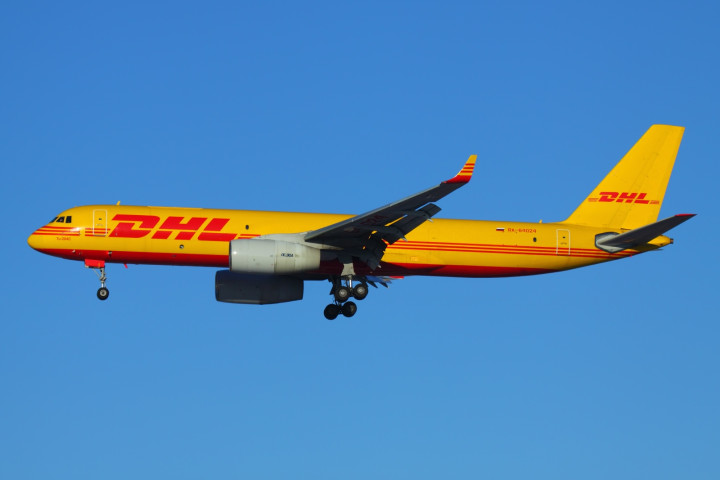 It's after 10.30 on a Thursday night. The more adventurous among us might be heading to the bar, having heard the call for "last orders". Others may be flexing their vocal cords for the prospect of shouting down politicians appearing on BBC's Question Time. The sensible ones will be tucked up in bed.
In a vast, rectangular shed in Leicestershire though, the day is just getting going. "The feeders are already coming in," says Danny Pedri, excitedly explaining the flurry of activity below us. "All the planes are landed now."
This is DHL Express' East Midlands logistical hub. Forklift trucks and luminous-vested workers mill about the vast exterior like ants: lifting and dropping, checking and clearing. It may seem chaotic, but you can be sure there's nothing random about it. It may not, as one staff member tells me, be sexy, but it works like clockwork – and that's what matters.
Each of the 550 workers is a vital player in a well-tuned orchestra. Pedri, the hub's boss, is the conductor and as he leads IBTimes UK around his facility, he beams with obvious pride. "I love it here! To me, this isn't work." He's been with the company since 1981 and his enthusiasm shows little sign of waning.
One slip, one trick missed and someone doesn't receive their new iPad on their birthday morning or their shoes in time for their wedding day. Our guide points towards one corner of the enormous hangar and tells us that's where they keep the medicinal radioactive materials, which arrive in emergency cases, to be freighted on to hospitals. A mistake could be the difference between life and death.
Pedri, ironically, is afraid of flying. "I don't like being in the air, but I love planes," he shouts over the roar of machinery as he leads us across the runway. "Trucks are nice. Vans are nice. But aeroplanes are the best."
He ushers us into the bowels of a Boeing 777, a former Japan Airlines passenger jet that's been hollowed out, its seats removed; windows blocked up and any sign of human-based comfort erased. There's a sense of eeriness as you look around the craft, but as with anything at this site, in the vicinity of Nottingham's Robin Hood Airport, it's done in the name of efficiency, rather than aesthetics or comfort.
"I don't have a preference, it's much the same," says the plane's Austrian pilot when asked whether he'd rather fly a passenger or cargo plane. "I guess freight doesn't complain."
While You Were Sleeping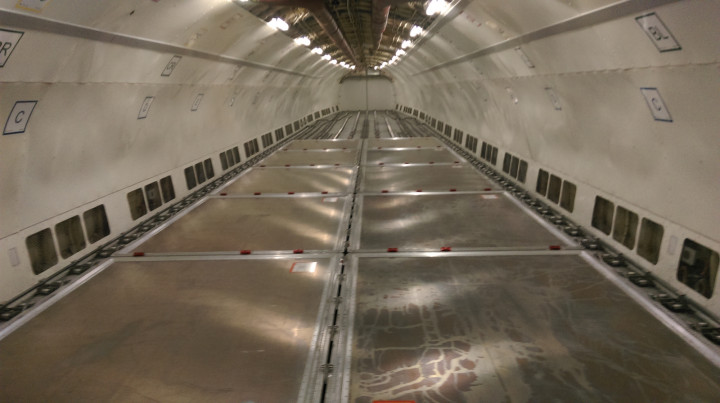 Every night, staff here load packages weighing the equivalent of 120 blue whales onto lorries and planes, for delivery to destinations around the world, or anywhere in the UK. Nottingham, famed for its glorious history of football, literature and folklore, may seem like an odd choice for DHL to put one of its biggest operations, but logistically it makes perfect sense.
The company can access 80% of the UK within four hours from here – the length of time it takes to drive to Exeter, the furthest point to which it dispatches delivery trucks (anywhere else, it's on a plane). If you were to put the UK on a pivot and spin it round, you could be fairly sure that Nottingham would be close to the centre.
Flights to and from London's Gatwick and Heathrow Airports have to be timetabled according to a strict curfew: they can't fly overnight due to the residential areas they're located amongst. East Midlands has no such restrictions. "We do everything we can to keep the noise down," says Pedri, as another Boeing takes off overhead. "But unfortunately they haven't invented a silent plane yet."
The centre is a hive of activity: noisy and busy, vibrant and bright. It's gone midnight and things are only just beginning to ramp up. There are 2,000 people employed here – with countless other jobs brought to the surrounding area, a result of DHL's magnetic effect on small businesses. A representative of Hardstaff Group, a local firm that frequently delivers express to customers overseas, says that he can bring a part to the hub as late as 8pm on any given night and be guaranteed it will arrive in the US or Europe by the next business day.
Phil Couchman, DHL Express' UK and Ireland CEO, tells us that the next item on the agenda is to convert the warehouse from a mechanical model to an automated one, in order to further boost efficiency. For a company which professes to pride itself on bringing jobs to the local area the quandary is clear. How can you maintain that, while at the same time automating?
The term "automation" conjures almost dystopian images, borne out of a slew of Hollywood blockbusters, in which humans outlive their purpose, replaced by the very machines they strove to advance. But as John Lewis proved a few years back, when it continued its investment in warehousing technology through the recession and its business continued to grow. As this happened it relocated the workers whose jobs were made redundant elsewhere in the firm, showing it is sometimes possible to make such processes more efficient without the mass sacrifice of jobs.
The decision-makers at DHL Express are confident that they can balance the move. "We're planning to increase the size of the hub by 15%," says Roy Hughes, who heads up European network operations. "We're not planning to have a significant headcount reduction." He goes on to explain that the company spends a lot of time and money training the staff, which are highly skilled. Their business model "doesn't intend to lay anyone off".
As e-commerce has become more popular, people's expectations have risen. People know what they want and they want it yesterday. With the lack of thought we give to how this occurs, one would think that it was a task performed by fairies. Touring a facility like this is a reminder of the real work that goes on while we're asleep and a fascinating snapshot of one of modern society's invisible industries.