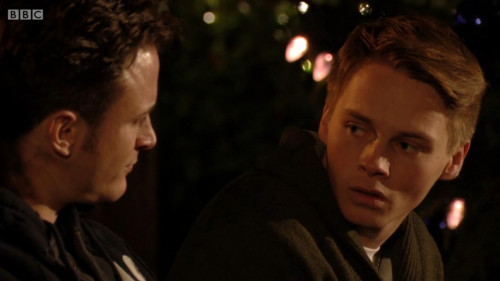 EastEnders writers have defended the BBC soap's new gay romance storyline after viewers complained about a recently aired same-sex kiss.
The episode saw Danny Pennant, played by Gary Lucy, and Johnny Carter (Sam Strike) lock lips in a passionate embrace just hours after meeting in Walford. The controversial kiss is part of a plotline that will deal with the aftermath of Johnny coming out to his father Mick (Danny Dyer), the new landlord of the Queen Vic pub.
The programme was aired an hour later than usual, at 9pm, but still received two complaints.
On social media, some viewers labelled the soap a "disgrace" and said that it was "ruined".
One critic said: "EastEnders was a disgrace. No wonder it was on after 9. Kids watch this programme. Being gay is wrong and it shouldn't be promoted #Dirty."
Pete Lawson, who wrote the episode, said it was disappointing that some people's attitudes to homosexual relationships had not changed.
A BBC spokeswoman also insisted that the episode was only pushed back till after the watershed because of the length of the programme preceding it - the animated movie Shrek Forever - not because of the content.
"EastEnders aims to reflect real life, and this means including and telling stories about characters from many different backgrounds, faiths, religions and sexualities," she added.
"We approach our portrayal of homosexual relationships in exactly the same way as we do heterosexual relationships:P ensuring depictions of affection or sexuality between couples are suitable for pre-watershed viewing."