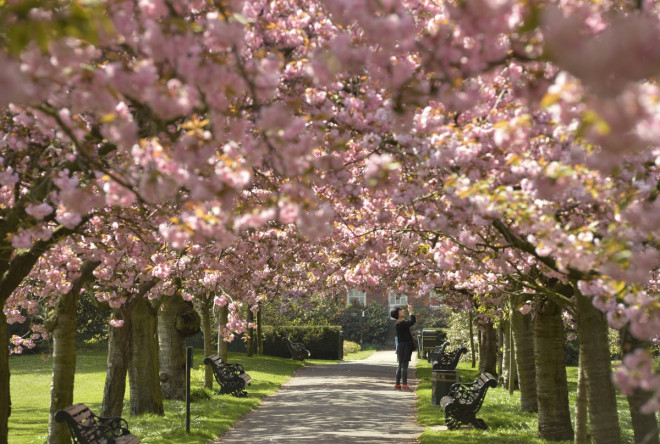 Despite the sunshine and warm weather this week, Easter Sunday may be a washout.
The Met Office said warm temperatures and fine weather will continue over the next few days with highs of 16C before changing for the worse on Good Friday.
Kirk Waite, a Met Office forecaster, said: "From Thursday onwards we're less confident.
"We're looking at things gradually becoming cloudier through Thursday. It might be a bit cooler. The question mark comes on Saturday. We're going to get high pressure in the north and east of the country.
"What this means is that we will have an area of lower pressure to the south and west. And the UK is going to be sat between the two. The lower pressure will have the wetter, cooler conditions. As we go into Sunday, the threat increases."
What about travel?
The weather downturn will combine with a surge in Bank Holiday traffic.
Traffic information company Trafficmaster told the Telegraph that road congestion would peak on Thursday - the busiest day on the roads this year. Friday and Saturday will continue to be busy.
A poll of 20,000 members of the AA revealed that 55% of them planned to drive over Easter weekend.
The most congested areas will be roads around London and in the southeast, where 52% of people plan to visit family. Around one fifth of people will take to the roads for the West Midlands.
Which are the busiest roads over the Easter weekend?
According to Trafficmaster, the busiest roads include:
A303 westbound from M3/J8 through Hampshire, Wiltshire and Somerset.
The M1 from Junction 6A (M25 interchange) to Junction 13, and from Junction 23A to Junction 32 (M18).
The M5 from Junction 15 (Almondsbury) towards Junction 31 (Exeter for West Country).
The M6 through the West Midlands (from Junction 4A) and northwards towards Lancashire (Junction 21A).
The M25 all sections, especially both ways around J14/17 (Heathrow airport and M4, M40 interchanges).
What about rail?
Transport for London has announced planned engineering works between Good Friday and Easter Monday on several London Underground lines, including the Bakerloo, District, Jubilee and Piccadilly.
There will also be disruptions to the DLR and the London Overground. Replacement buses may be operating, so it is advisable to check the website.
First Great Western services will experience delays because of improvement works. There will be amended services from London Paddington to South Wales and Bristol, on the Heathrow Express and around the Southampton area.
Trains will not call at Pangbourne, Berkshire, but a replacement bus service will be available. There may also be delays around Cheltenham and Swindon.
East Coast trains have announced that on Good Friday and Saturday, engineering works will delay services from London Kings Cross. Other services will start and terminate at Stevenage, Peterborough, Newark North Gate and Doncaster.
There will also be an amended timetable on Easter Sunday and Monday, with fewer trains running. You can check East Coast updates on the National Rail website here.