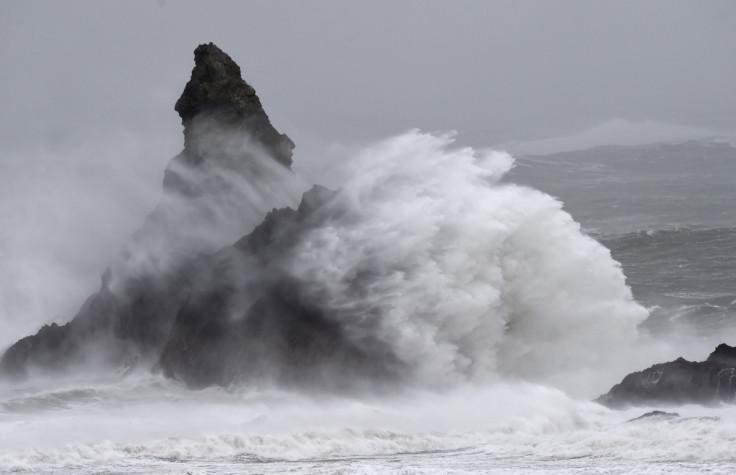 Following a sunny spring day on Good Friday, Easter plans are likely to be washed out by heavy rain as weather reports warn of a storm, which will affect southern England and south Wales. The storm, christened Katie by the Met Office, is forecast to hit on Easter Monday (28 March), bringing heavy rain and strong winds.
Storm Katie is the 11th named storm since last autumn, the Met Office said as it issued a national severe weather warning.
Frank Saunders, Chief Operational Meteorologist, said the storm will bring "very strong winds" to southern England and south Wales from the early hours of Monday. Strong winds of 50mph to 60mph are expected in inland areas, with the possibility of gusts of around 70mph in south- and west-facing coasts and large waves.
"We expect the winds will start to ease in south-western Britain from mid morning, this improvement reaching other areas by late afternoon or early evening," Saunders added, noting that currently, there is some uncertainty about the storm's future course. The Met Office meteorologists will continue to track its progress, development and path.
Meanwhile, the Met official cautioned people with travel plans during the Easter weekend to keep a check on weather updates before stepping out. The Met Office says Storm Katie could disrupt travel and outdoor activities as there are risks of "fallen trees and disruption to power supplies also possible in places".
According to Patricia Yates, director of strategy and communications at VisitEngland, around six million people have travel plans in the UK over the Easter weekend, The Guardian reported.
The Met Office's yellow warning covers East Midlands, East of England, London and South East England, North West England, South West England, Wales, West Midlands, Yorkshire and Humber.
For London and South East England, the Met Office predicted a "largely dry morning with some bright intervals" and as the day progresses, it will become "increasingly windy with periods of rain spreading eastwards" from afternoon, turning heavy by evening. "Strong southerly winds will increase with gale force gusts possible later, perhaps severe gales near coasts," the forecast said. On Easter Sunday, the weather will be "bright or sunny at times, but with scattered showers", with possibility of hail and thunder.