Violence erupted in the Liberian capital as police fired live rounds and tear gas into a crowd of protesters in the West Point slum, which was quarantined as a drastic measure to try and curb the spread of Ebola.
Four residents were injured in Wednesday's clashes, in one of Monrovia's most densely populated townships. Locals said the barbed wire blockade prevented them from buying food and working.
Liberia has seen over 570 deaths – the highest number in any of the four West African states ravaged by the world's worst outbreak of Ebola. A total of 1,350 have died in Liberia, Guinea, Sierra Leone and Nigeria.
And as the disease continues to spread, tensions are reaching breaking point. Brandishing clubs, a mob attacked a Monrovia medical centre on 17 August – freeing several patients from the isolation ward and looting blood-stained bedding and medical equipment. Although the patients returned to a hospital days later, the stolen and highly infectious items have not been recovered.
Fear of the unknown
As a relatively new disease, fear is one of the main underlying reasons for the outbreak of violence in areas hit by Ebola. Discovered in the 1970s, the disease is transmitted through contact with infected bodily fluids and has a fatality rate of around 90%. Currently, there is no known cure.
The experimental drug ZMapp has shown positive results among the few patients who have received the vaccine, but the World Health Organisation has recognised that it will take months to produce enough of the drug to be administered on a large scale.
As the virus continues to rage virtually unchecked in Monrovia, much of the city's health system has shut down over fears of Ebola being passed on among staff members and patients – affecting treatment for all other conditions.
"It's a brand new disease in the area and you can understand why people have pre-existing ideas and fears about it, as not enough is known about Ebola," Sandra Smiley, of the charity Doctors Without Borders, told IBTimes UK.
The charity, otherwise known as Médecins Sans Frontières, has been working around the clock across Africa, to care for patients and to try to curb the spreading of the virus by providing medical staff, building medical facilities and promoting public health measures.
Smiley was working in in Guinea and Sierra Leone around one month ago. Similar riots have broke out in Kenema in July.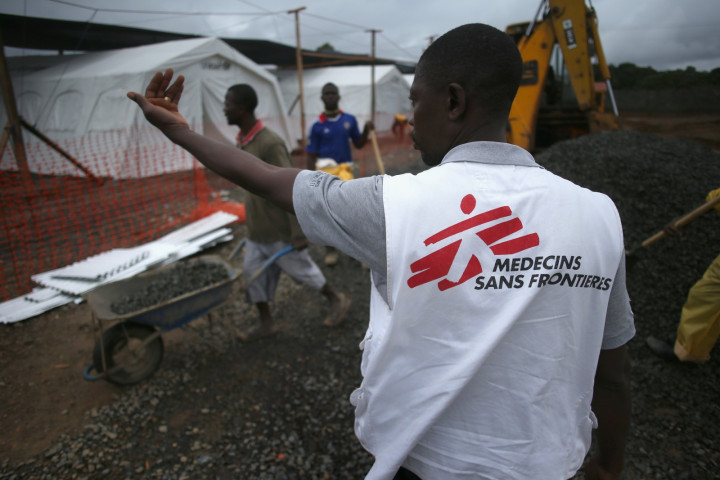 Ebola 'hoax' stories
Because the disease has never been seen on this scale before, myth and superstition are rife. The attackers involved in the health centre looting reportedly believed Ebola does not exist and at a meeting of Christian leaders at the Liberian Council of Churches, it was unanimously agreed that the disease was "God's wrath".
There has been growing resentment around treatment centres and the death of health workers has sparked fear that the medical centres are aiding the spread of the virus.
The nature of the protests have been caused by the deaths of medical staff – promoting the false idea that the centres are dangerous places to be in.
"Health care workers dying has caused people to be fearful, though many of those workers died in situations where the appropriate precautions weren't taken," Smiley added.
"Healthcare posts had to shut because people are scared to go to work. That's a really troubling thing, because of a lack of skilled healthcare workers in the first place."
Food shortages
The countries hit by the outbreak are not only suffering the devastating effects of the virus; they're also experiencing shortages of food, fuel and basic supplies after shipping companies and airlines suspended services to the regions.
Imposing quarantines have further encouraged riots and protests – with fears of being trapped in an infected area with limited food supplies.
"I don't have any food and we're scared," said Alpha Barry, a resident of West Point. Originally from Guinea, Barry has four children under the age of 13.
In an effort to calm tensions, authorities have reportedly begun to deliver rice, oil and other essentials to the region.
Progress
According to Smiley, who works to promote awareness of the disease, building trust with locals is essential to beating Ebola.
As well as providing doctors and medical staff, MSF have been working on trust-building activities and communicating with locals on the ground, as well as television and radio broadcasts.
"Public anxiety is at an all-time high and there is a mistrust of health workers," she explained. "We provide education about what the disease is and how it is transmitted. But to do this, you have to engage with people and gain their trust. It's really important to make it clear that we understand why people are scared."
But this is something that can be tackled, Smiley stressed. "In our centres, people have been coming in earlier and increasing their chance of survival. Without trust, people are dying at home and buried by their families – which is how the disease spreads. We need to provide information about hygiene and safe funeral practices."
Télimélé, a remote village in the Fouta Djallon highlands of Guinea, is one of the success stories for the charity.
"We opened and closed a treatment centre in seven weeks and had a recovery rate of 75%," said Smiley.
"The main reason for this is because people were open-minded – they responded quickly, came for treatment, and followed public health measures."