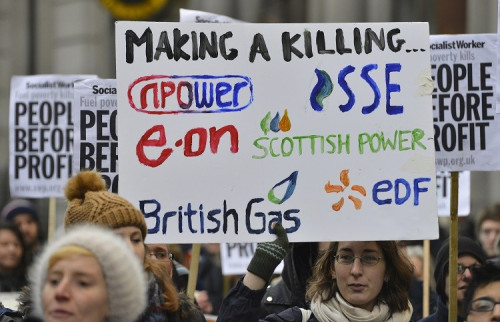 Britain's energy secretary has urged Ofgem to investigate the UK's Big Six gas and electricity companies after after they posted bumper profits.
According to a letter by Ed Davey to Ofgem chief executive Andrew Wright, the government is asking the watchdog to investigate the energy companies, especially British Gas.
"[British Gas] tends to charge one of the highest prices over the past three years, and has been on average the most profitable," said Davey in his letter.
"Clearly you will wish to consider whether this is prima facie evidence of an issue in the market and so whether it merits a market investigation reference with the whole gamut of potential remedies that could follow including a break-up of any companies found to have monopoly power to the detriment of the consumer.
"Alternatively you may of course conclude that no action is needed or potentially some intermediate measure which can be taken by the sector regulator."
In September, opposition leader Ed Miliband pledged to freeze energy prices until 2017, if the Labour Party wins the general election in two years.
Three months later, the coalition government pledged to cut energy bills by £50 (€60, $82) a year, via a series of measures, including a slash in green taxes for gas and electricity firms.
Meanwhile, the rest of the UK's Big Six energy companies, which account for 99% of the market, stated an intention to cut household bills or not raise prices until 2015.
A number of companies, such as Scottish Power, said they will household bills but technically only 'cuts' are only partial reversals to major price hikes announced last year.
In October 2013, Ofgem data has revealed that wholesale energy prices have only risen by 1.7% despite energy companies blaming this for hiking up household bills by 11.1%.
Analysis of the Ofgem data also shows that wholesale prices would have only added £10 onto the average household bill to reach £610.
The average net profit margins of the largest energy providers have more than doubled over the past year.
Ofgem data shows that profit margins have risen to £95, from £45.
"This is a hugely significant intervention by the secretary of state for energy and implies that Davey agrees with Which? that the structure of the biggest energy companies is partly to blame for the price hikes that millions of squeezed customers have been struggling with in recent years," said Richard Lloyd, executive director of Which?, in a media statement.
"The pressure is now on the regulators to announce next month that they are taking the first steps towards a more radical reform of the energy market, and to give consumers confidence that they are paying a fair price."
British Gas said in a statement that it was complying with an independent market assessment being conducted by the Office of Fair Trading, Ofgem and the Competition and Markets Authority and that "further discussions have been arranged over the coming weeks in which we will fully participate."