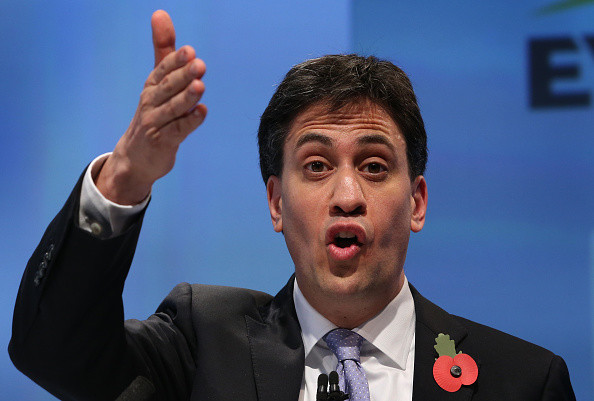 The UK's economic recovery has been "joyless" for millions of people because wages have not grown, according to Ed Miliband.
The Labour Party leader, speaking at the Confederation of British Industry (CBI) 2014 conference, called on British business leaders to go on a "journey" with him to improve living standards.
"This is a joyless recovery for so many because it is a pay-less recovery for so many," Miliband said.
"A recovery without wage growth. And the problems go much deeper than that. Beyond one government, one party and one election.
"Millions of people believe, and have done for some years, that this country is not working for them.
"They fear deeply for the future of their kids. They see a Britain that works only for some.
"As a result, people in Britain are desperate for a new start, a new beginning, that might give them the hope in the future that they used to take for granted."
Miliband also said he wanted to make the UK a better place to do business "long into the future".
"Creating a country that works for everyday working people. I look forward to doing it together," the Labour leader said.
The comments come after the Office for National Statistics (ONS) said that total pay grew at a rate of 0.9% in the year to August, below Consumer Price Index (CPI) inflation of 1.5% over the same period.
Miliband, who has been facing a leadership "crisis", also claimed that those calling for the UK to leave the European Union (EU) are "dead wrong".
"Others say the problem is the EU and the answer is to leave that: close our borders, turn our back on the world and return to the way things supposedly used to be," Miliband said.
"These voices are loud and insistent. But they are dead wrong and they need to be taken on."
The Labour leader argued that leaving the economic and political union would risk "billions of pounds" in lost profits and would risk "millions of jobs".
Miliband's comments come after Nick Clegg, also speaking at the CBI conference, said that he wants reform in Brussels, but warned that Britain would have "no future at all" if the country left the EU.
"We need to retain and maintain the openness of the British economy. We have always been a great trading nation, we have always been an open society, we have always exported ours goods, our services and our people around the world," the Liberal Democrat leader said.
"In this highly globalised and mobile world economy of ours, there is simply no future at all — for you, for our country — if we turn our backs on the world and pull up the drawbridge. We are nothing if we are not an open and vibrant economy."
However, David Cameron, who has promised an in/out referendum in 2017 if the Conservative Party gain power in May, said a vote on the UK's membership of the EU would not deter investor.