EU Referendum: Cameron Pledges In/Out Vote Won't Damage Economy Amid £15bn Infrastructure Investment Promise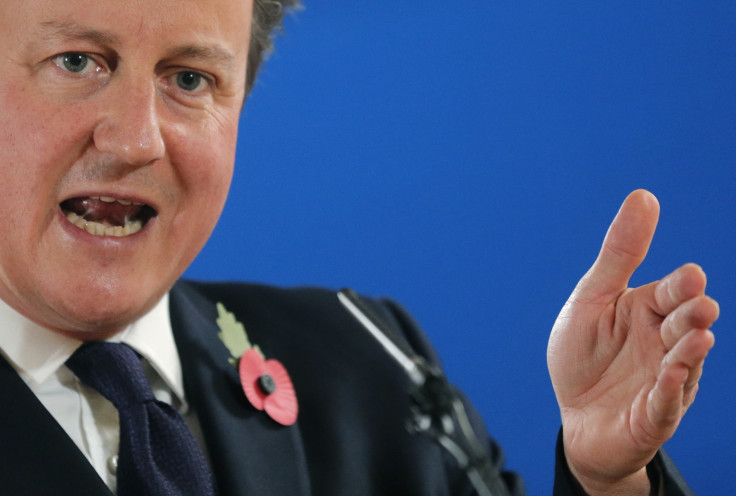 Britain's Prime Minister David Cameron has promised that the in/out vote for the UK staying within the European Union will not damage the economy, while announcing that the Conservative government would create a roads revolution by investing £15bn in infrastructure by 2021.
Cameron, speaking at the Confederation of British Industry (CBI) 2014 conference, said it was important for Britain to have a strong infrastructure that can deliver a "successful modern economy for the entire nation".
Cameron pledged to let Britons vote for either exiting and staying within the EU via an in/out referendum scheduled for 2017, if his Conservative party remains in power after the general election next year.
However, he rejected claims that uncertainty over whether Britain would stay part of the EU will affect growth and instead concentrated on highlighting the money the Tories would invest into infrastructure.
"We have had to take difficult decisions, in terms of spending and efficiencies, but we have prioritised infrastructure spending," the Conservative Party leader said.
"It would have been very easy as Prime Minister, faced with the decisions I had to take, to cancel Crossrail, to give up on HS2, not to talk about electrification of our railways — I rejected that approach. I know for Britain to succeed we have got to make these infrastructure investments.
"We will continue to complete Crossrail, we will continue the work on HS2, I think the vision of HS3 — creating a northern powerhouse — is extremely powerful. Focusing on the roads programme, we are now not only spending as much on rail as any government since Victorian times, but on roads we are now spending more than any government since the big expansion of the 1970s.
"Between now and 2020, we have plans for £15bn of road spending that could lead to an extra 100 schemes on our roads.
"We are looking specifically at those pinch points, those problem areas, that businesses and people have talked to us about, like the A303 and the A1 north of Newcastle.
"A big investment only possible because we managed the nation's finances effectively."
John Cridland, the director-general of the CBI said, in response to Cameron's comments: "The Prime Minister gave an upbeat speech with deficit reduction firmly in pole position."
"There was recognition that it is necessary to grow at the same time as cutting back, and it was good to hear the emphasis on both infrastructure, investment and skills.
"Business will welcome the PM's endorsement of the CBI's Europe strategy of 'In with Reform'."
Ahead of the conference, Business for Britain (BfB) revealed that more than 1,000 UK company leaders now back a renegotiation with the European Union and a referendum.
The campaign group announced that it has signed up more than 1,000 members – just a year and a half after its formation.
The organisation calls for a "better deal" from the EU for the UK and also supports an in/out referendum on the country's membership of the economic and political union.
© Copyright IBTimes 2023. All rights reserved.