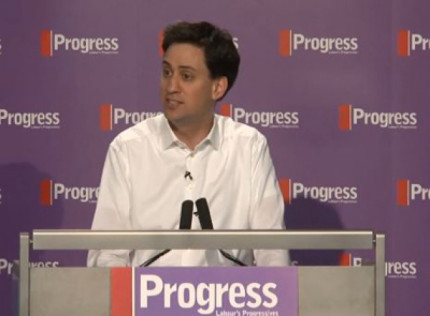 Ed Miliband has been given a major lift in the middle of his post-Budget week from hell after one of the biggest energy suppliers announced it would be freezing prices until 2016.
Just six months after the Labour leader pulled off a significant political coup by announcing he would freeze prices for 20 months if he won the 2015 election, SSE has, to all intents and purposes, done it for him.
There will be arguments about what prompted the move but it is absolutely clear it was Miliband who focused attention onto the alleged overpricing by the big six power firms.
He was roundly ridiculed at the time with government ministers saying the policy was "economically illiterate" and prime minister David Cameron accusing him of a "con" and living in a "Marxist universe" of price fixing.
But the policy was hugely popular, put the industry firmly in the spotlight and landed the Tories with a headache as they struggled to find an alternative policy. Eventually they came up with plans to "cut the green crap", as Cameron called it, from energy bills.
Meanwhile, bosses from the companies were hauled before Commons committees to explain their pricing tariffs and alleged cross-subsidies between their generation and distribution arms.
And the overwhelming view was they put up a pretty weak, confused and sometimes obfuscatory response. A much wider inquiry seemed inevitable.
SSE has now announced, just days before the industry regulator Ofgem is expected to spark a full competition inquiry into the energy market, that it will not only freeze prices but also legally separate its retail and wholesale businesses by March 2015, in order to "improve transparency".
Company boss Alistair Phillips-Davies made the announcement.
"In all of this, I hope that people will see a company like SSE not as part of the problem but as part of the solution," he said.
There is, inevitably, a sting in the tail. The move will mean the loss of 500 job, the postponing of three offshore wind farms and more demands for ministers to take even more green levies off the firm.
That is less good news for Labour and allowed critics to claim this was the inevitable consequence of his planned price freeze.
Meanwhile energy secretary Ed Davey even suggested the decision was a result of the government's policies to introduce more competition into the market and cutting some of that "green crap".
But this is one Miliband should be able to chalk up for himself and Labour sources have been quick to point out the entire issue would never have been on the agenda if it had not been for their leader's intervention.
The announcement has come at a crucial time when Labour is suffering badly in the wake of George Osborne's highly-political budget and the recovering economy.
The latest of a series of bad polls, by YouGov for the Times, put Labour's lead at 3% - 38% to the Tories 35% - two up from three recent surveys but still well behind their trend.
But perhaps worse, in the wake of another poll suggesting voters found Miliband "weird", the survey said only 19% could imagine Miliband as prime minister.
So the boost has come at a useful time for him and there is now speculation that other firms will follow suit in an attempt to head off more damaging criticism.