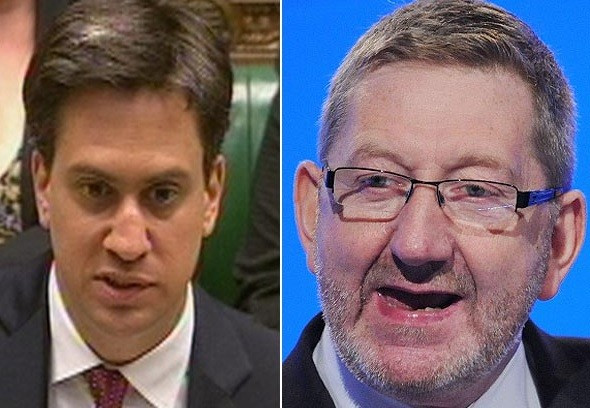 Labour leader Ed Miliband has called in the police amid a deepening row with Unite boss Len McCluskey over claims the union attempted to rig the party's choice of parliamentary candidates.
Labour handed police a dossier of evidence, thought to contain details of alleged irregularities in the process to select a candidate to fight the safe seat of Falkirk at the next general election.
McCluskey had accused Labour of running a smear campaign against the union, which has donated more than £8 million to the party since Miliband became leader.
The trade union boss said he did not trust the findings of an internal inquiry which criticised the union's actions in Falkirk. McCluskey called the party's response "a disgrace" and branded the report a "stitch-up".
In a dramatic escalation, shadow business secretary, Chuka Umunna, said: "We took advice from lawyers yesterday in relation to the Falkirk matter and as a result of the advice given have decided to refer it to the police."
Miliband called on McCluskey to "face up to his responsibilities".
"[McCluskey] should not be defending the machine politics involving bad practice and malpractice that went on there, he should be facing up to it," he said.
"Let nobody be in any doubt. There is only going to be one outcome to this: the Labour Party will act in a way that upholds the integrity of our party, the integrity of our party members and the integrity of ordinary trade union members.
"I will not allow the good name of the Labour Party to be undermined by the behaviour of a few individuals."
Labour MP Angela Eagle said she believed "particular individuals" were to blame for the conduct in Falkirk, rather than the Union itself.
But while her comments appeared aimed at calming tensions, Miliband's intervention raised the stakes once more.
Peter Watt, the party's former general secretary, warned against attempts to limit the damage without getting to the bottom of the allegations.
"If Labour attempts to blame Falkirk just on 'particular individuals' rather than accepting institutional problem it will be a disgrace," he said.
The row claimed its first heavyweight victim on Wednesday when Shadow Cabinet minister Tom Watson quit his job running Labour's election campaign
Watson, Labour's deputy chairman, said he no longer believed he was "useful" to Miliband, after becoming embroiled in the row.
Karie Murphy, a member of Watson's staff, was suspended amid accusations she receiving improper backing as Unite's favoured candidate to contest the Falkirk seat, left vacant following the resignation of Eric Joyce.
Watson once shared a flat with McCluskey, who is also close to Murphy.