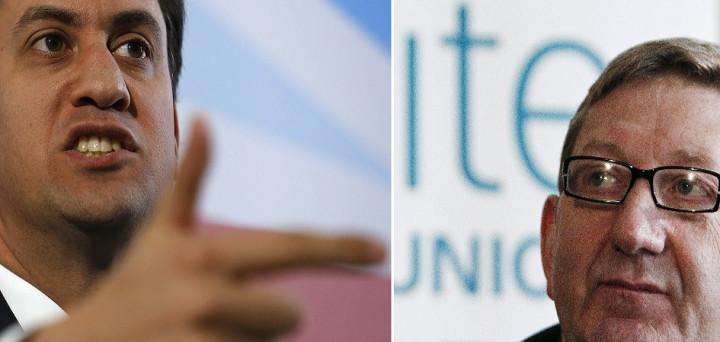 Ed Miliband appears to have faced down union bosses over fundamental reforms to the Labour party.
Miliband, branded "Red Ed" in sections of the rightwing media for his strong links to powerful unions, has unveiled historic plans to change the decades-old ties between the party and organised labour.
The leader of the Opposition was forced to act by the Falkirk rigging scandal - the biggest crisis yet of his leadership.
In a fillip for the embattled Labour leader, Len McCluskey, the leader of the Unite union,which sparked the shake-up with alleged malpractice in trying to install its favoured candidate as Labour's standard-bearer in Falkirk at the general election, took a concilatory stance following the speech. Those allegations are being investigated by police.
Miliband said: "It is a symbol of what is wrong with politics. I want to build a better Labour party - and build a better politics for Britain."
Outlining his scheme for cleaning up the scandal, Miliband insisted that Labour must "reflect the modern world".
Among the changes he proposed was an end to automatic donations by union members to Labour funds, a change which could take £8m from the party's coffers.
The Labour leader said he was determined to force through as soon as possible a change under which union members would opt in to paying £3 a year to the party rather than the present system under which they opt out.
"I want these changes agreed before the [2015] general election," he said. "No one should be in any doubt about my determination to get this done.
"I've been very explicit about the system I want. I want an individual active choice to become part of our party," said Miliband.
"My determination is to change my party to reflect the modern world. It's the right thing to do and I think people will agree with it."
Miliband branded the Falkirk scandal, the "dying embers of the old politics".
McCluskey took to the airwaves to offer cautious support for Miliband.
He said: "It was certainly a bold and brave speech and it may well be a historic one if Ed Miliband's vision comes true.
"He seemed to be saying he wanted to see trade union members playing an active role in the Labour party and that's something I very much welcome. As far as we are concerned, we are more than happy to engage in the discussions with him."
But McCluskey hinted that Miliband's "vision" lacked substance, saying: "He is indicating there needs to be real change and I suspect we will see the meat on the bones when discussion start to take place.
"What we've seen today is a visionary view but the detail will have to be decided. You are talking about a relationship that's lasted 100 years. I thought it was very brave."
The scandal forced the resignation of high-profile campaigner for press law reforms, Tom Watson MP, Miliband's election coordinator.