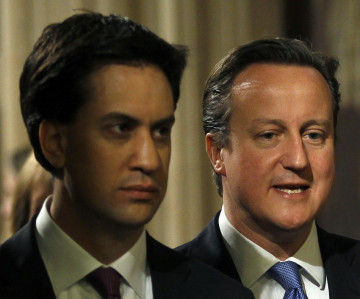 The latest official figures on jobs and wages have offered the clearest insight into how the political war is likely to be fought, in what is stacking up to be a long hot summer.
The coalition has genuine reason to claim its "long term economic plan" and chancellor George Osborne's four years of austerity have done the trick.
Unemployment is down while new jobs, particularly in the private sector, are being created at an encouraging rate and more of them appear to be full-time "proper" jobs.
Cameron has understandably hailed the creation of 2 million new private sector jobs since 2010 as "a major milestone" in his economic recovery.
But only a month ago ministers were, albeit more quietly, claiming another milestone had been passed with wage rises catching up with inflation, so blasting a hole in Ed Miliband's cost-of-living-crisis campaign.
But those celebrations may have been premature, with the latest figures showing wage inflation has actually fallen back. Although Miliband will be cautious about suggesting it is a continuing trend.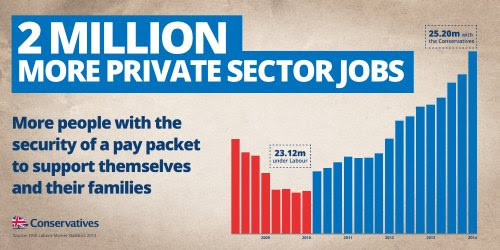 So the good news for Cameron is that the headline unemployment rate has shown its biggest fall in 16 years and a record 5,500 more people are currently getting jobs each day: "all with the security of a pay packet and a brighter future," as he tweeted.
But Labour's line of attack will still be over that pay packet and the evidence showing it is not enough to keep pace with increases in the weekly supermarket shop or, as another report recently showed, key utilities bills such as water.
And on those energy prices, Ofgem's demand to know why the "big six" firms had failed to pass on lower costs to consumers has vindicated Miliband's assault on the firms and his price freeze pledge.
The ONS report that wage growth fell to 0.7% from 1.9% in the quarter to April allowed shadow minister Rachel Reeves to claim "the cost-of-living crisis is still a very real concern for very many families".
And Miliband clearly intends to press on with that line of attack. But there are growing fears amongst Labour MPs that, accurate though it may be, it will not be enough to win the 2015 election.
If current polls showing Labour only narrowly ahead of the Tories are right, Miliband's chances of winning an outright majority in 2015 are slim. There is general agreement he needs some new "beef" as the cost-of-living crisis mantra starts to lose some of its potency with voters.
That should come when the party's policy reviews are completed by Jon Cruddas before the party conference in September. But there is a long summer break before then, during which the good economic news will keep on coming.
That empty summer could be filled by more Labour squabbling over whether to offer something bold and radical in the election manifesto or to keep the offer small and focussed on the core voters needed to scrape an outright majority.
So there is pressure on Miliband to offer something soon to keep some momentum going through the summer.
Cameron will have his own problems. Excluding the Scottish referendum, there is little to keep his troops occupied between now and the autumn conference and there are already clear signs that rival leadership candidates are manoeuvring in the prospect he will be forced out if he again fails to win outright.
Politicians and political commentators hate a vacuum and they have a habit of finding things to fill it. The devil has no problem making work for those idle hands.
And that is unlikely to be good news for either leader as they attempt to control the agenda.