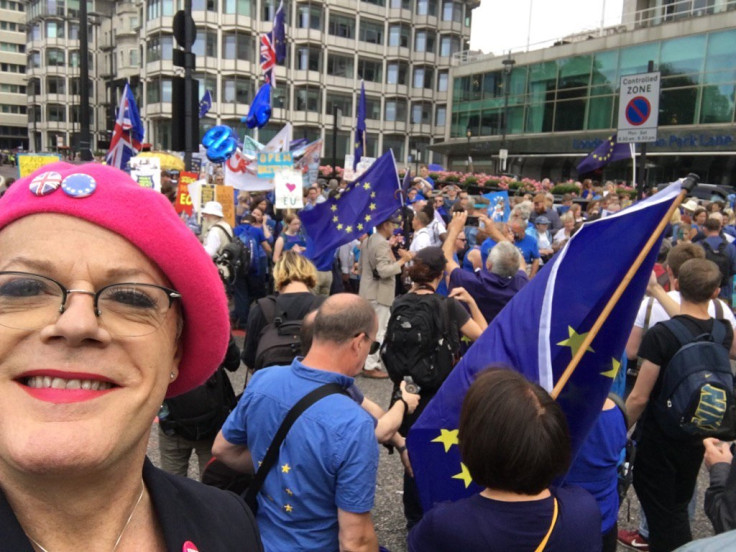 Eddie Izzard and police chased a man down a London street, after the pro-EU comedian's bright pink beret was stolen by a Brexit supporter, during a March for Europe demonstration on Saturday (3 September).
In the incident, captured on video by a Press Association reporter, a man, whose face was concealed by a scarf, grabbed the flamboyant comedian's pink hat whilst screaming at them.
Izzard, who was wearing high heels, gave chase, but stumbled, dropping his handbag. The assailant was chased down by police officers and pro-EU marchers, who wrestled him to the ground.
The TV star and political activist, who identifies as transgender, managed to get his hat back from the floor before dusting it off and returning to the March for Europe demonstration.
Scotland Yard has not confirmed whether the black-clad man was arrested or released.
March for Europe protests were held at eight locations across the UK on Saturday. The London event saw a number of notable speakers, including pro-EU campaigner Izzard.
The pro-EU marches took place on the anniversary of the outbreak of the Second World War. The protesters – carrying EU and UK flags, placards and signs – want to keep tight economic, cultural, and social ties with the EU and prevent the government formally invoking Article 50 of the Lisbon Treaty which triggers the two-year deadline to withdrawal from the EU.
Campaigners marched from Hyde Park and through Whitehall to the Houses of Parliament. Columnist Owen Jones, Labour's Chuka Umunna, co-leader of the Green Party Caroline Lucas, as well as comedian Josie Long, also attended the march.
Earlier in the day Izzard has told protestors to "believe in hope" during the rally. He said: "We believe in hope. We need to put more hope into the world than despair and that's what the European Union was set up to do, it was set up to stop wars.
"If there are things wrong with it we need make it better, running and hiding was never going to work".