When a Polish man was beaten to death, allegedly by a large group of teenagers, on an Essex estate, many were quick to suggest it was a result of the heightened discrimination and xenophobia in Britain following the decision to leave the EU. However, for the local residents, the true fear in Harlow has existed long before the term 'Brexit' entered their vocabulary.
While the town slowly returns to normal following the murder of 40-year-old Arkadiusz Jozwik outside a pizza takeaway in the Stow – a small shopping precinct containing Bargain Boozes, bookmakers, cafes, launderettes and local pub The Essex Skipper – locals have began to question whether his death was simply a case of the victim being in the wrong place at the wrong time.
On one hand, you have the claims from the victim's brother, Radek Jozwik, that the factory worker, also known as Arek, was purposely targeted as he was speaking Polish with the other men he was with – a narrative that fits perfectly with the huge rise in hate crimes committed across the UK in the wake of Britain voting to leave the EU.
One Harlow-based Pole is so convinced of the xenophobic intent of the killing that he has helped organise a minute's silence as well as a 'silent march' into the town centre with the Polish community on 3 September. Eric Hind told IBTimes UK: "What happened to Arek is proof there is a big issue in Harlow, there is discrimination on a regular basis. The way British people behave here is just not acceptable."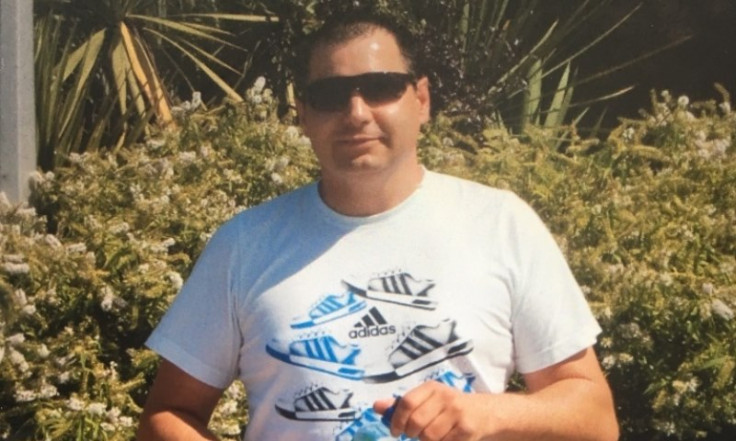 Essex Police confirmed they are investigating the murder as a hate crime but also stressed there are "several other strands" of enquiry they cannot eliminate from their investigation.
On the other hand, several residents believe what happened on the evening of 27 August had an air of inevitability about it, with issues in the area existing long before the vote on whether to leave the EU occurred. They believe the killing may just have been a extreme version of youth anti-social behaviour seen in towns across the UK, a continuation of the fear of hoodie aggression that former prime minister David Cameron described in 2006 as "all that's wrong about youth culture in Britain today".
Locals also said the killing could have easily been avoided and have criticised police for failing to deal with the area's anti-social problems before it was too late.
Residents were quick to declare Harlow a place of tolerance and reject any suggestion the alleged hate crime is in any way a true representation of the town.
The Harlow branch of Stand Up to Racism organised a candlelit vigil on 31 August, attended by around 200 people. Conservative MP for Harlow, Robert Halfon, reassured the Polish community they would be welcome to the town "just as we would welcome our best friends" and everyone must work together to ensure Harlow remains a "kind, decent and tolerant place to live".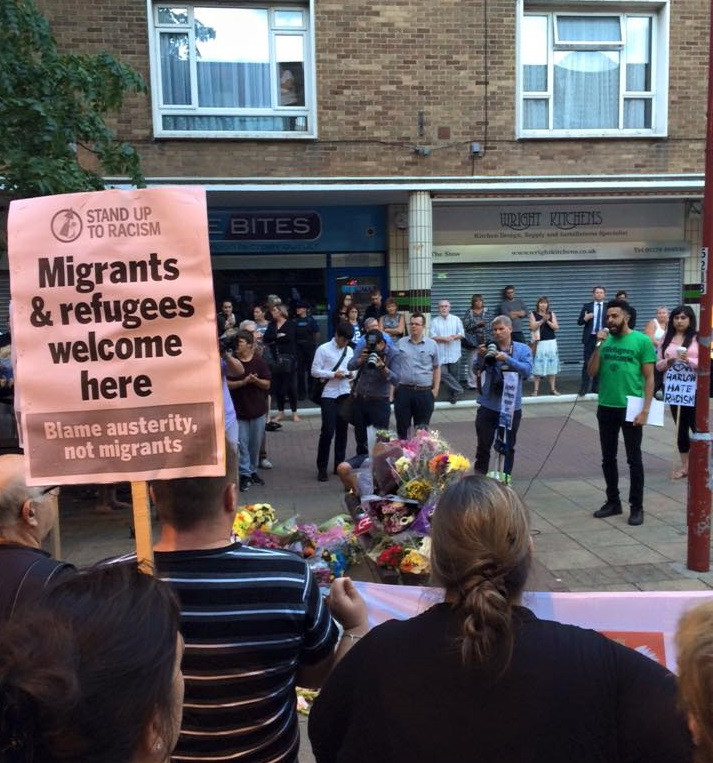 Jacek Gora owns a Polish shop in The Stow. He has been collecting signatures on a Polish flag at the store, as well as donations for Jozwik's family, in the wake of the murder. He told IBTimes UK that he has lived in Harlow for the past 11 years and has "never had a problem here in the shop and it's been open years now".
He added: "Now it's just the young people, they should be sitting at home, the parents should know what's going on with the children.
"Everywhere has problems with young people, this just happened, it's just strange. Everyone is sad because we know this person, he was my customer and I saw him here almost every day. The problem is there should be more police, especially in a place like this, for a bit more safety. The Stow is for everyone, and everyone does go there. It should be safe, but it's not."
Following Jozwick's death, police arrested five boys aged 15 and one aged 16 on suspicion of his murder. In the months prior to the attack, local business owners said they had launched dozens of complaints to police about huge groups of teenagers in the area, ranging from minor anti-social behaviour such as kicking balls against windows to vandalism.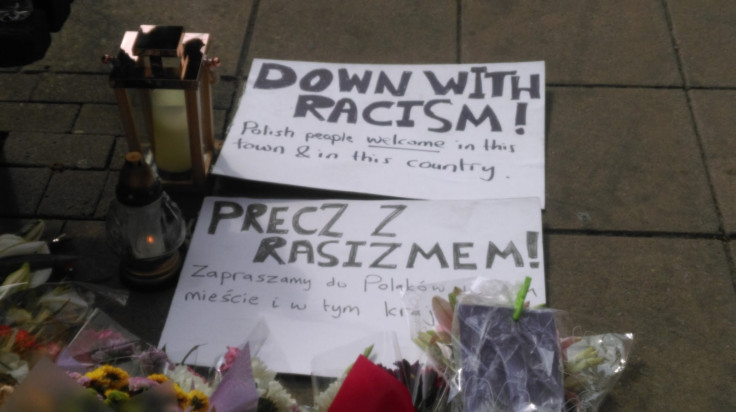 Essex Police issued a 48-hour dispersal order for The Stow beginning on 7pm on 30 August, four days after the attack. The dispersal order was put in place to give officers the power to order anyone to leave the area if they have reasonable grounds to believe the person is harassing residents or likely to be involved in crime or disorder. Essex Police later confirmed the dispersal order will continue until 5 September, but many residents of Harlow and the Stow have expressed their dismay that the police's actions were "too little, too late".
No division in the community
Charlotte Cogan, 25, landlady of the Essex Skipper pub, told IBTimes UK: "The dispersal that has been out in place should have been done a long time ago. The kids have been out there at silly O clock at night. The shopkeepers have called the police and they've not shown up or they've come too late.
"All it was a case of doing was just shifting them along. I know they've got other things to do and can't keep coming back here every five minutes, but if you move them along a couple of times they'll start to get the hint that you can't loiter around here."
Cogan, who was working on the night of the attack but said she did not hear anything as the pub was having a live music night, added: "There's been a group out here for the last couple of months, anything from 15 to 30, especially since it's been the six weeks' holiday they've got nothing to do, they're just gathering around. It seems that in the last couple of months there's been more of them, riding their bikes, causing nuisance to a lot of the shop owners. I've had to ring police a few times, nothing too serious, nothing threatening."
Cogan is one of a number of people who don't believe the attack was racially motivated or in response to Brexit, it was more a case of "wrong place, wrong time".
She added: "There is a big Polish community and they do gather and drink on the street, I've seen them sitting in a few places. It wouldn't have been the first time they've all been out around that time. Sometimes they'll be sitting on one bench and the kids will be sitting over the other end - there's no division in the community or anything."
Visiting The Stow, the area appears to suffer from the classic sign of an area rife with anti-social behaviour – a lack of activities available to teens and young people. Residents speak of how there used to be a youth club in The Stow, but seems to have stopped running so long ago no one can really remember when it closed or why.
The closest thing it has is the Moot Hall community centre. Upcoming activities include mixed needlecraft, tap dancing, and an over 50s art group.
The area is also just a few miles away from the Aspire Academy, a school for children aged between four and 16 for whom "mainstream education for a range of reasons is not possible or is not working well".
Becky Leys, 34, who came to The Stow to lay flowers at the memorial for Jozwick and is due to move to the area in a matter of weeks, also dismissed suggestions it was a racist crime. She does not believe Harlow's struggles are different to many other towns. She said: "Everywhere is rough that's full of drug addicts and kids. The Polish guys were at the wrong place at the wrong time, but then again where should they have been? Just because they're Polish?
"A lot of people should be blaming the mothers, if the kids did do this they should be taking the blame.
"This town is getting worse with all the crimes and the rapes and the stabbings. What I don't get is that the police want to come up here for 48 hours, but where were they when this happened? It should have been done a long time ago. They need more police officers on every council estate like this.
"As a mother, I would not let my 15-year-old be out late at night. When this is all sorted, there needs to be more done to stop families letting their children out at 11.30 at night."
'Each case is based on the level of threat, risk and harm'
Confirming the extension of the original 48-hour dispersal order – which one Harlow resident described as "pathetic" – Essex Police Superintendent Andy Mariner said: "Tragic crimes like this may be rare in Essex but when they happen we know it can have a massive impact on the community's sense of safety. We are listening to residents' concerns and our officers, including a team of experienced detectives, are committed to finding those responsible for this tragic incident."
"Over the last few months we have been working with the council to address issues of anti-social behaviour in The Stow area. This has included daily patrols, engaging with residents and young people congregating in the area and gathering intelligence to identify the culprits.
"Further information on ASB incidents has been brought to our attention as a result of the incidents this past Monday that will aid our response to antisocial behaviour in Harlow. I want people experiencing these issues to report them to the police online or by calling 101 or to Harlow Council. We assess all reports of anti-social behaviour and our response in each case is based on the level of threat, risk and harm."
All the teenage suspects arrested in connection with the murder have been released on bail until 7 October.