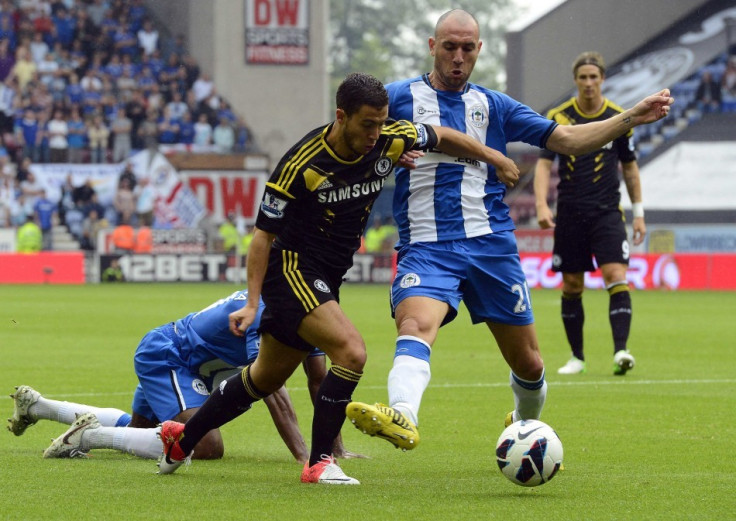 Chelsea summer signing Eden Hazard has insisted the club play as a team and he will not place personal glory over success for the Stamford Bridge outfit. The Belgian playmaker has been in sensational form since his switch to England and has been involved in five of Chelsea's goals this season, as well as becoming an instrumental part of their attacking play.
"I love to set up my team-mate. I am not here to be a star, to show off. I am here to play for the others, but if I have to try and clinch a game then I will," Hazard stressed.
The 21 year old was the Blues' marquee signing in the off-season, arriving from French club Lille for a staggering £32m fee. Roman Abramovich's financial largess meant Chelsea beat Manchester United and Manchester City to the player's services and the returns have been both immediate and impressive.
"It's totally different here. With Lille we could have gone to the South of France and people would not have recognised us. But at Chelsea, the players are at another level. Everything has changed for me - the language, the country - but it is up to me to adapt," the youngster explained in a Mirror report, adding that he was still in the process of adapting to life and football in England.
Meireles Bids Adieu
Meanwhile, Portuguese midfielder Raul Meireles visited the Blues' training ground in Oldham, to say farewell before his departure for Turkish club Fenerbahce. The club has agreed an £8m transfer for the 29 year old former Porto player, who joined Stamford Bridge for £12m from rivals Liverpool in 2011. The player won the FA Cup and the Champions League with the London club last season but the arrivals of Hazard, Marko Marin and Oscar have meant he is unlikely to see regular first team football with the club.
"I came to say goodbye to my friends and of course I will miss this club and the fans and the city. There are some great people here, they always supported me and they help everyone, so of course I had to come to say goodbye to everyone. The last part of the season was great, we won the Champions League, the FA Cup, and it was very good for me," he told Chelsea's official Web site.