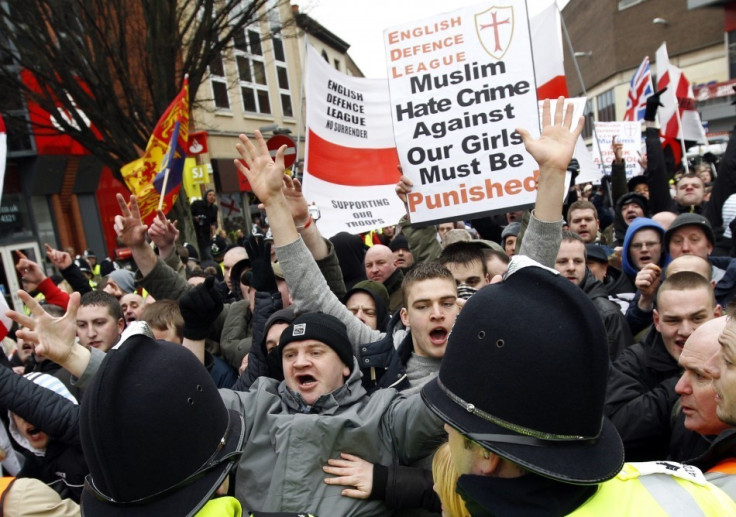 Anti-fascist demonstrators reportedly outnumbered EDL protesters on Saturday 1 June at rallies across the UK following the murder of Drummer Lee Rigby.
In Sheffield, crowds blocked the EDL from laying a wreath for Rigby at the city's war memorial.
There were scuffles in the two-hour stand-off, as police tried to keep the two groups apart.
Other EDL marches in Leeds, Luton and Birmingham reportedly passed without incident, with local media reporting sizeable counter-demonstrations by those opposed to the group.
Most of the marches were held by the EDL in silence, to show "respect" for Drummer Rigby, according to the group's leader Tommy Robinson.
Violence flared, and there were 20 arrests in a joint BNP and EDL rally in Westminster.
The rallies were billed as the biggest mobilisation of far-right support in the UK for 30 years, and anti-fascist groups dubbed today a 'day of hate'.
Local politicians urged people to boycott the marches.
Before a rally in Hemel Hempstead, the town's MP Mike Penning said: "I would encourage people to have absolutely nothing to do with the EDL. It is an abhorrent organisation that feeds on people's fears."
The Express and Star reported that the cost to West Midlands police of policing EDL rallies over the past three years was £261,000.
Yesterday, in a statement released through the Ministry of Defence, Drummer Rigby's family urged people to show respect, and said he would not have wanted people to "use his name as an excuse to carry out attacks against others".
They added: "We would not wish any other families to go through this harrowing experience and appeal to everyone to keep calm and show their respect in a peaceful manner."
To watch the scenes in Sheffield, click on the link below.