I recently flew back from Geneva to Paris after a long day of meetings with clients. But I didn't fly with either of the two flag-carrier airlines, Air France or Swiss. Instead, I chose to fly with EasyJet, in the process saving my employer hundreds of euros.
While I did arrive 15 minutes late in Paris, due to the airplane being late to arrive in Geneva in the first place, something else struck me. I was amazed at how full the flight was, with hardly a spare seat left on the aircraft. No chance of me getting the aisle seat I prefer.
What is more, so many people had opted, like me, to pay extra for speedy boarding in an effort to get a seat near the front of the aircraft, that in the end it didn't offer much of a benefit. Except to EasyJet of course, who made more money out of all of us.
That set me thinking – how well is the distinctive orange-liveried airline performing this year? Digging into the monthly passenger traffic statistics from the EasyJet website, the answer seems to be that they are doing very well indeed.
EasyJet enjoys strong passenger growth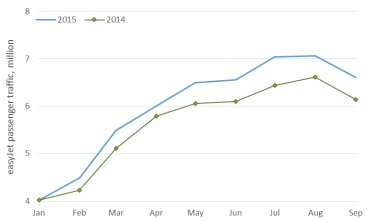 Every month this year, EasyJet (UK code EZJ) has carried more passengers in Europe than over the same month in 2014 (Figure 1). For the first 9 months of the year, EasyJet has on average carried 6.5% more passengers than over the same period in 2014.
Clearly, with Ryanair also carrying a record number of passengers in 2015, budget airlines are enjoying a banner year on the back of strong consumer confidence and a stronger pound sterling, which has improved British tourists' purchasing power abroad.
EasyJet's aircraft are fuller than ever
Profit growth isn't just about how many passengers are carried per year; what is at least as important is how full each flight is. This is expressed as 'load factor' - the percentage of an aircraft's seat capacity that is filled by a paying passenger.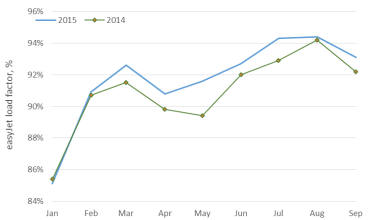 In the case of EasyJet, the load factor is also improving this year over 2014: each month since March, EasyJet's load factor has been higher than the corresponding month in 2014 (Figure 2). So EasyJet's profits this year should be better than last year's, not only because they are carrying more passengers, but also because each aircraft is on average fuller than last year.
Analysts following EasyJet are forecasting 20% earnings growth for this year, followed by 9% further growth in 2016.
Is EasyJet the only choice in budget airlines?
An investor who wants to capitalise on the growth in budget air travel across Europe actually has a number of investing options apart from EasyJet:
Ryanair (UK code RYA) is the biggest budget airline in Europe by number of passengers carried. They claim to be the first airline to have carried over 10 million international passengers in one month, achieved in July 2015. They also achieved a record load factor in July of 95%.
Wizz Air (UK code: WIZZ) is a budget airline that is listed on the London Stock Exchange, and which focuses on no-frills flights out of London Luton to Eastern Europe, including to Poland and the Czech Republic. This is a growth market given the large growth in UK immigration from Poland, Romania and other recent entrants to the European Union over the last few years. They carried nearly 2 million passengers in July 2015, and are seeing 20% year-on-year passenger growth this year.
Air Berlin, listed in Germany, is a low-cost German airline operator. However, unlike Ryanair and EasyJet, Air Berlin is struggling against Ryanair, EasyJet and Lufthansa, and is projected to make a loss this year.
Norwegian Air Shuttle, listed in Norway, is a low-cost airline operator that not only operates low-cost flights to and from Scandinavia within Europe, but which also operates long-haul budget flights to New York from London Gatwick. So next time you want to spend a long weekend in the Big Apple on the cheap, look up www.norwegian.com!
A final note on EasyJet: not only is it cheaper on valuation than either Ryanair or Wizz Air, but it also offers a decent 3.7% dividend yield and is sitting on over £400m of cash - both good supports to the share price. While normally I am not a fan of investing in airline shares, I would make an exception for EasyJet.
---
Edmund Shing is Global Head of Equity Derivative Strategy at BNP Paribas in London. He holds a PhD in Artificial Intelligence.
---