We as a nation spent £26.5bn (€36bn, $39bn) in the shops during February, ie £6.6bn per week. The latest retail sales data reveals we bought 5.7% more stuff from shops in the second month of the year than in 2014, an impressive growth rate.
Clearly the combination of increasing employment, rising wages and lower petrol prices are driving greater consumer optimism and are all leading us to open up our wallets and spend with abandon...
A schizophrenic retail sector: Supermarkets pressured, non-food flies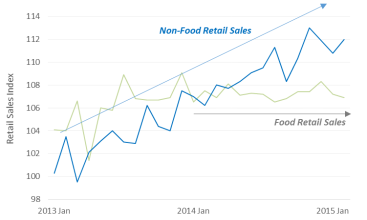 Looking under the hood of retail sales statistics reveals two very different trends at work: firstly, supermarkets continue to have a tough time, with sales flat and prices under pressure (food prices on average 2% lower now than this time in 2014).
Secondly, in sharp contrast, the non-food retail sector is enjoying a boom (Figure 1), with a 5.3% increase in retail sales value over a year ago.
Digging deeper, the sectors producing the best growth at the moment are clothing, electrical appliances and household goods (furniture, lighting, Figure 2), all growing at over 6% per year.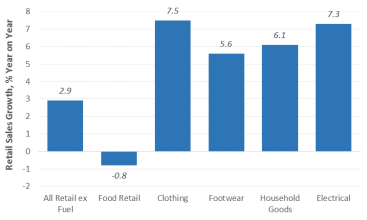 In the UK retail space, the obvious names come to mind such as the veritable Marks & Spencer, Next and even Whitbread (the owner of Costa Coffee, Beefeater Grill and Brewers Fayre).
So which companies should be making hay? Debenhams and SuperGroup
But I would focus right now on two other retail names: department store chain Debenhams and the owners of the popular Superdry fashion brand, SuperGroup.
I like Debenhams (code: DEB) for a number of reasons:
It sits in the current sweet spot of retailing, offering clothing, footwear and household goods in its department stores.
Current trading is strong, following the strong key Christmas period with 4.9% like-for-like sales growth. Online was strong too with its website growing sales by 29% over the four-week period, helped by the success of its click-and-collect service.
Gross profit margins continue to improve, highlighting the better cost control and fewer discounted items sold.
Valuation remains cheap at only 10x P/E (thus far cheaper than Next, Marks & Spencer or Associated British Foods – owner of Primark; Figure 3), while income lovers will like the 4.6% dividend yield paid out.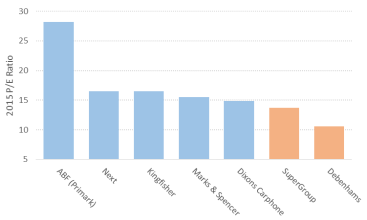 The stock has been on a strong run of late, rising from under 60p in October 2014 to touch a peak at the end of February of over 80p, before settling back to 76p now. I think there could be plenty more upside left in Debenhams, given the following winds from the UK economy.
SuperGroup: Buying into the new strategy
SuperGroup (code SGP), the retailer behind Superdry, has decided to buy back the distribution rights for its fashion brand in the US, so as to sell Superdry clothing Stateside rather than through a partner. At the moment, Superdry is not making money in the US, but this strategic move highlights the new management's confidence in its US growth potential.
Secondly, it has recruited actor Idris Elba (The Wire, Luther, Prometheus, Pacific Rim, Thor) for a collaboration on a new premium range of Superdry clothing, which should deliver a boost to UK sales.
Thirdly, it is initiating a dividend for the first time, which will allow part of the £66m of cash on its balance sheet to be progressively returned to shareholders.
Top-line growth for Superdry is still estimated to beat 10% per year going forwards, generating 12-14% earnings growth. For this, an investor is paying just over 13x P/E on an ex-cash basis, which seems a remarkably good deal for this recovering branded goods growth story. So shop till you drop with Debenhams and SuperGroup.
Edmund Shing is the author of The Idle Investor (Harriman House), an expert columnist and a global equity fund manager at BCS AM. He holds a PhD in Artificial Intelligence.