No surprise that financial journalists are seizing on the FTSE 100's proximity to the magic 7,000 level to pen myriad articles, all variations on the "FTSE to hit a new all-time high after 15 years".
But what is perhaps far less well documented in the financial press is the fact that the FTSE Mid 250 index, including more domestically oriented sectors such as house building, non-food retail and media have been in a stealth bull market over this same period, posting a compound annual growth rate of not far shy of 10% per year including reinvested dividends, compared with only 3.9% for the FTSE 100 (Figure 1).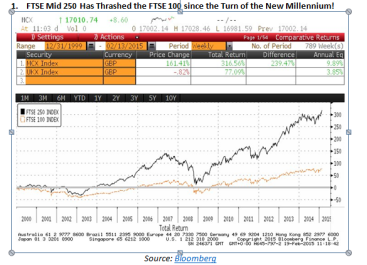 At a new all-time high of over 17,000, it seems as if the FTSE Mid 250 index is poised to capitalise on the economic strength evident in the UK, as we see record employment and the resumption of better wage growth while the inflation rate is the lowest seen in many a year (Figure 2).
There are two ways to invest in the FTSE Mid 250 index as it reaches a new all-time high: buy one of a number of FTSE 250 companies that are performing well and offer good value; or simply buy the entire index via exchange-traded funds (ETFs).
My personal FTSE 250 favourites
If you are taking the first approach, and are keen to buy a handful of FTSE 250 companies, I would suggest looking for exposure to the buoyant UK economy via more domestically-oriented sectors such as: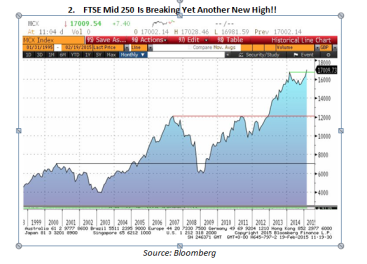 Travel: budget airline easyJet (UK code: EZJ.L) is enjoying ever-higher UK passenger numbers (read my February 18 budget airlines article including easyJet)
Non-food retail: SuperGroup (SGP.L) has benefited from a strong Christmas trading period, with 12.4% like-for-like sales growth to 10 January (read my December 22 Santa's Secret Stock Tips article)
House builders: Berkeley Group (BKG.L), which is exposed to the buoyant housing market in the affluent south east of England and which offers a near-7% dividend yield (see my February 2 Housebuilders' article)
Insurance: Lancashire Holding (LRE.L) is a Lloyd's insurer that has two key attractions: (a) a very generous 9% dividend yield and (b) the potential to become a takeover target given recent purchases of UK competitors Catlin and Brit Insurance. See my recent Lancashire Holding article for more detail.
Asset managers: Jupiter Asset Management (JUP.L), one of the UK's largest asset managers that manages nearly £32bn of assets in its various funds, and which currently pays a near-5% dividend yield. Greater UK investor optimism should benefit Jupiter via higher funds under management, and thus higher management fees and profits.
Recap on the performance of my six secret Santa stock picks
I gave six FTSE 250 stock tips in a pre-Christmas article back on December 22. How have they fared in the intervening two months?
Well I am pleased to report that these stocks have returned an average 6.2% over the two months led by SuperGroup and Amlin, beating the FTSE 100 index handily. (Figure 3)
Don't want to pick single stocks? Buy a FTSE 250 ETF instead
If you prefer the lazier way and just want a single investment to capture the FTSE 250's strong momentum, the cheap way to buy exposure to the UK's economic momentum would be via a FTSE Mid 250 exchange-traded fund (ETF), such as those offered by ETF providers iShares (UK code MIDD.L), Deutsche Bank x-trackers (XMCX.L) or HSBC (HMCX.L) (Figure 4).

Bottom line: Remember the headline FTSE 100 index is more a proxy for the global stock market given its heavy weightings in global industries such as healthcare, mining and oil & gas. In contrast, the FTSE Mid 250 index is a much better proxy for domestic economic growth and has outperformed the FTSE 100 by a country mile over the past 15-plus years.
Edmund Shing is the author of The Idle Investor (Harriman House), an expert columnist and a global equity fund manager at BCS AM. He holds a PhD in Artificial Intelligence.