It is the best of times for UK budget airlines easyJet (code EZJ), Ryanair (RYA) and Jet2 (owned by Dart Group, DTG)! Medium-haul airline passenger traffic to European destinations just keeps on growing as UK households seek to escape to sunnier climes from the generally gloomy weather at home. European air passenger traffic grew nearly 6% over the last quarter of 2014 (Figure 1).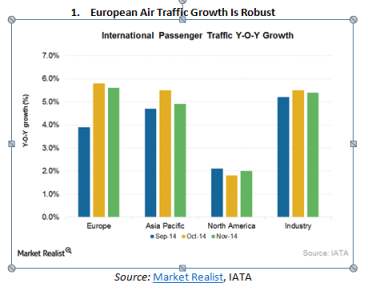 With a favourable following wind from the strong UK economy flowing through into:
higher employment (unemployment rate of 5.8%, lowest since mid-2008),
stronger wage growth and
record high consumer confidence (highest reading in over 10 years),
this bullish traffic trend should be sustained over this year and into 2016 (Figure 2).
Both easyJet and Ryanair have ridden this UK consumer boom with a combination of rising passenger traffic (easyJet +6.3% year-on-year; Ryanair +7.6%; Figure 3) and improving load factors (the amount of seats per flight that are occupied; over 90% for easyJet and 87% for Ryanair). A rising load factor means better efficiency, and higher profits.
Reinforcing this trend, IAG (parent company for British Airways and Iberia) reported stellar passenger growth in January of 12.1% for its European routes compared with January 2014, far outstripping passenger traffic growth for other regions.
Profits Boosted by Lower Fuel Costs
Of course, fuel costs are a huge part of any airline's overall running costs, so the 50% drop in crude oil prices will have a positive leveraged impact on the bottom line for these three companies (Figure 4) – albeit with a lag, given that they all hedge future fuel costs to some degree to reduce the volatility and to improve the predictability of their cost bases.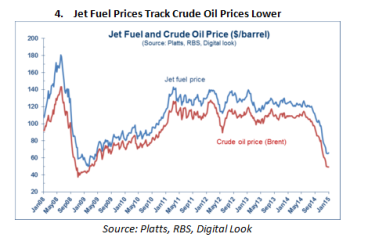 The near-halving in jet fuel costs since mid-2014 will continue to gradually flow through to the profit lines of airline accounts for the rest of this year and well into 2016, providing a following wind for UK airline earnings.
Profitability, Dividends and Cash All on the Rise
The results of these favourable revenue and cost trends on these UK budget carriers can be seen in improvements in profitability, cash flows and dividends, with returns on equity rising steadily for easyJet, Ryanair and Dart Group since 2011 (Figure 5).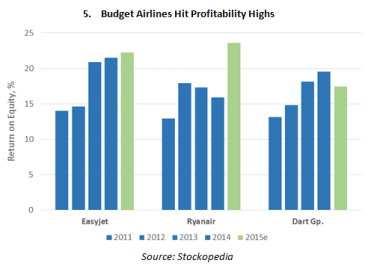 And Yes, Price Momentum Has Already Been Positive
A glance at the share price charts of these three airlines tells you that the stock market is already looking kindly on this sector, with all three shares enjoying strong rising trends over the past 12 months (Figure 6).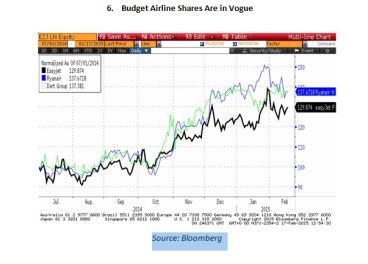 Comparing easyJet, Ryanair, Dart Group? Which One is Best?
At this point, we can see that UK low-cost airlines are riding on the crest of several positive profit waves; but which one should be choose to invest in?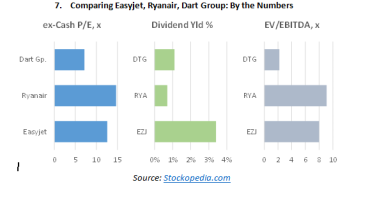 From Figure 7, I would choose Dart Group (DTG) if I had to choose only one airline horse to back – it is the cheapest by far on both price/earnings (adjusted for net cash) and EV/EBITDA valuation ratios, has the best cash backing on its balance sheet (around £180m of net cash once you subtract cash held on advance customer bookings) and has relatively lower leverage from the leasing of airplanes, with only 9 out of its 53-strong fleet being leased (the other 44 being owned outright by the airline).
With Dart Group, I would argue that you are getting exposure to a real deep value situation which is already seeing positive price momentum, and with room for growth as ticket sales continue to fly.
But if you prefer a larger company with a decent dividend yield, then by all means opt for Easyjet (EZJ) with its 3.4% yield, which I chose as one of my Santa's Secret 6 Stock Tips back on December 18.