EE is taking on GoPro with the world's first 4G-connected action camera, as the network moves beyond mobile.
Looking remarkably similar to a GoPro, the camera can be mounted on a helmet to record action sports like mountain biking and rock climbing. Video can be recorded and shared instantly with the press of a single button on the side of the camera.
EE says the action camera segment is the fasting growing part of the camera market, and recognised that being able to share this footage live is a real opportunity.
"Sharing life is something which appeals to consumers," EE said at the launch in central London on 9 June, recognising the popularity of live video sharing apps like Periscope and Meerkat. The camera can record in 1080p Full HD and share video over EE's 4G network instantly. EE boasts that it now covers 90% of the UK with its 4G service, meaning the camera can stream from most areas of the country.
Instead of giving the camera its own screen or viewfinder, there is a companion watch with a screen to see what the camera is recording. The watch is used to start and stop broadcasting and comes included in the box, alongside a waterproof case and a smaller, non-waterproof case.
The camera will be available in-store from 16 June, with pre-orders open now.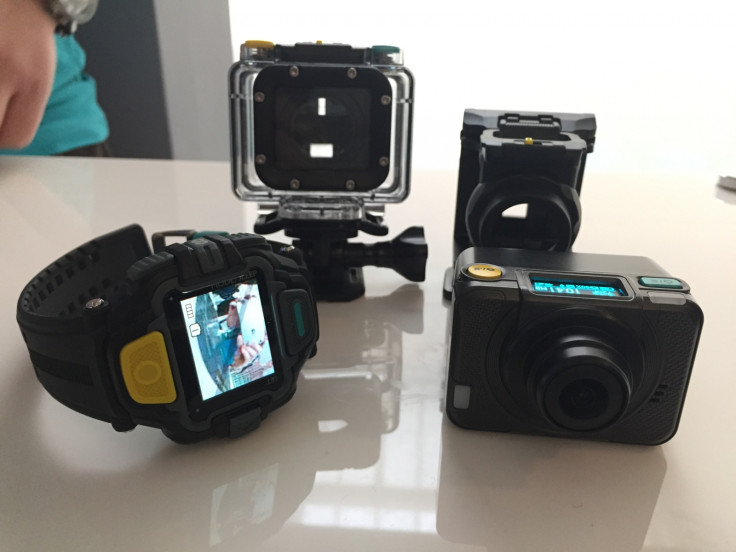 The ruggedised casing makes it waterproof to a depth of 60m. As well as HD video, it takes 13-megapixel stills, and there's an optional high speed recording mode for 60 frames per second video.
Battery life is claimed to be three hours of live 4G broadcasting, and there is a microSD card slot to increase storage by up to 64GB. Android and iOS apps use smartphones to control the camera and add more 4G data.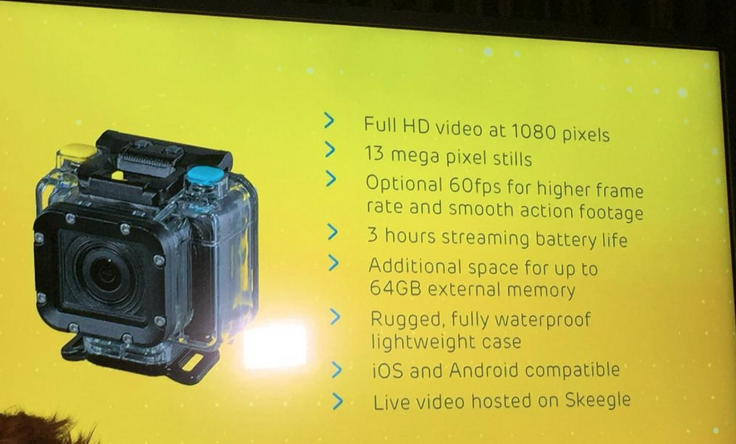 Skeegle vs Periscope
EE has created Skeegle, a live video broadcasting platform similar to the Twitter-owned Periscope. "This is all about live, spontaneous and instant video broadcasts," says EE, adding this is a camera for when you don't want to use an expensive smartphone.
Skeegle, EE says, is not about broadcasting to the world, but about sharing personal moments with your friends, family or even work colleagues.
The camera can only stream live to Skeegle, although the video can be used freely once it has been transferred to a computer. You can add contacts to "circles" within Skeegle and share a broadcast to either yourself, a single contact, or a whole circle of contacts, who each receive a text message with a link to tap and start watching your stream.
All video shot on the camera is stored on EE's servers, where you can view it privately at a later date. Video is also saved to the camera's internal 2.5GB of storage. If the camera loses its 4G connection, it will connect to 3G instead and automatically lower the quality of video being streamed - although video stored to the camera remains at Full HD throughout.
Claimed to be a world-first, the camera will be available this summer on both EE's shared plans, where data is shared across multiple devices, as well as on pay-as-you-go. On shared contracts the camera is £99 up front, then £15 per month, although there's an introductory offer where it is £10 per month.
On pay-as-you-go, the camera is £299 up front with 2GB of data for use over a 30-day period. EE says an hour of streaming HD video over 4G will use around 1GB of data.