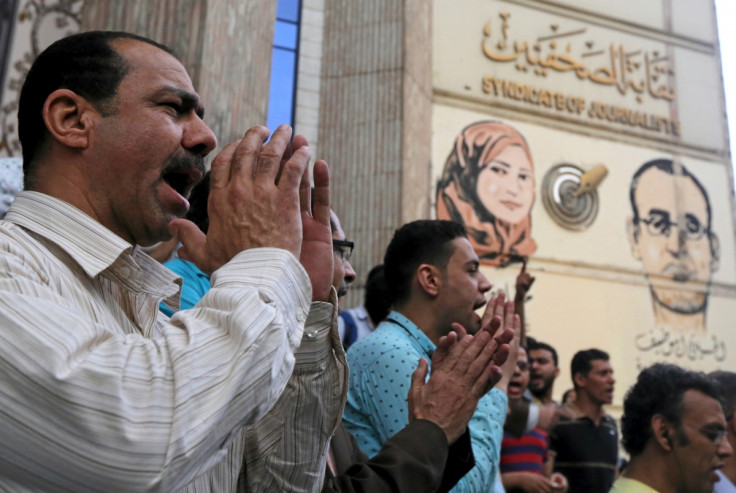 As many as 100 people were given a five-year jail term in the Egyptian capital Cairo for taking part in peaceful, anti-government demonstrations in April. Two courts convicted them under a 2013 law that bans street protests.
People reportedly protested against Egypt's decision to hand over control of two Red Sea islands to Saudi Arabia as part of a deal. Police arrested more than 1,200 people who planned to take part in protest rallies scheduled for April 25, but released most of them.
One court convicted 101 people late on Saturday (14 May), of whom 79 were fined 100,000 Egyptian pounds (£7843, $11266) each and 54 were convicted and sentenced in absentia, officials were quoted by the Guardian as saying. Several hours later, another court in Cairo sentenced 51 people to two years in jail for participating in the protests.
The protesters reportedly claimed that the deal struck between their country and the oil-rich kingdom that led to the transfer of the two islands was actually a sell-out, given the multibillion-dollar aid package announced by Saudi Arabia for Egypt. Heavy police deployment on 25 April did not allow protesters to go ahead with their planned demonstrations, who instead, staged some flash protests in different parts of the Egyptian capital.
But police rounded off most of the protesters on the day of the protest and before, of whom about 300 faced legal action under the 2013 law.
Egyptian President Abdel-Fatah al-Sisi, who faced strong criticism over the deal, which was reportedly negotiated secretly, argued that the islands belong to the Saudis. He has demanded that people stop criticising the deal and maintained that his government is trying to strike a balance between reviving the country's battered economy and fighting off the insurgence of Islamic militants in Sinai, the sparsely populated desert between the Red Sea and the Mediterranean Sea.