Three Cairenes have been killed and more than 90 injured so far after huge fires tore through the Egyptian capital's historic El-Rewaiei market on Thursday morning (12 May 2016), with subsequent blazes starting in Cairo's historic centre and outside the Judicial Court.
The tightly packed apartment buildings at El-Rewaiei and surrounding Attaba area provided the perfect kindling for inferno, with the first fires breaking out in the commercial district at around 11:30pm on Sunday evening (8 May).
The Egyptian state newspaper al-Ahram reported that 60 fire engines and ambulance crews fought the blaze and provided medical care to survivors before it was finally put out on Tuesday (10 May).
Since the fire in El-Rewaiei, which destroyed six buildings and hundreds of shops, smaller blazes have broken out in different administrative areas. On Wednesday (11 May), four textiles shops in in the historic area of Ghouriya the nearby Khan al-Khalili market in Islamic Cairo and al-Azhar Mosque.
Five workers who suffered from smoke inhalation are currently receiving medical treatment as a result of the incident.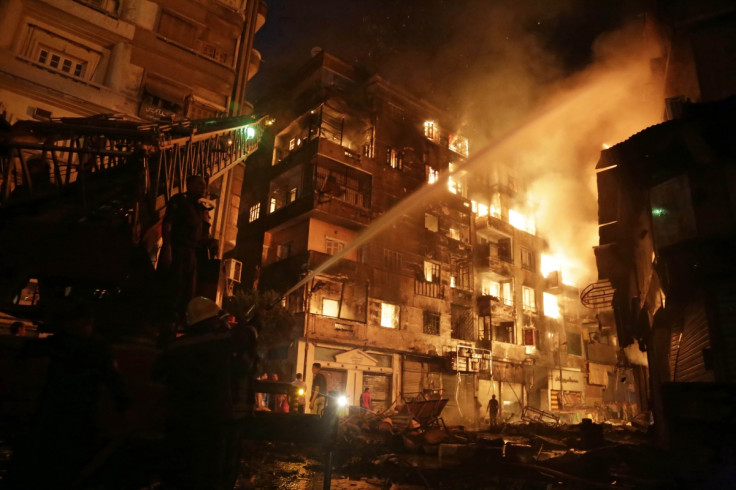 Antiquities officials have said none of Cairo's cultural heritage or any of the Egyptian capital's historical buildings were damaged as a result. A second blaze in Islamic Cairo on Thursday at an apartment block in Al-Darb Al-Ahmar, also near Khan al-Khalili, injured two people.
In a statement published by the state news agency MENA, Egypt's interior ministry said firefighters put out flames that burned a vehicle outside the court complex of the High Judicial Court in central Cairo. Locals in the affected areas have responded with scepticism to an official narrative that has blamed the fires on accidents. In Attaba, the worst of the blazes was attributed to an electrical fault. Local vendors have claimed that unknown arsonists started the fires.
Al-Ahram reported losses are estimated to have reached at EGP 400m ($45m, £31.1m) after the fire engulfed around 240 shops and dozens of stalls.