A woman who told the BBC that Egyptian police were behind her daughter's disappearance has been arrested for "broadcasting false news that could harm the country's national interests."
On Wednesday (28 February), Mona Mahmoud, widely known as Um Zubeida (mother of Zubeida), was detained for 15 days for questioning following her interview with the BBC.
She will be investigated for "spreading false news" as well as joining an illegal group, a reference to the Muslim Brotherhood, Egyptian newspaper Al-Ahram reported.
Last week, the BBC published an in-depth report on her daughter Zubeida's disappearance, who has reportedly been missing since last April.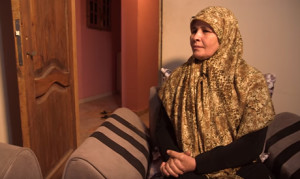 In the report titled 'Shadow over Egypt', Mahmoud accused the police of being behind her daughter's disappearance, along with dozens of others. She also accused authorities of raping and torturing Zubeida in detention.
"We know it's the police," Mahmoud said. "Neighbours told us that armed and masked men came in a police vehicle and took her away in a minibus. They had been to our old house, inquiring about her, several times."
"If my daughter is disappeared and they've taken her and tortured her, how can I not speak out? Even if my words lead to my hanging, I will still speak," she added.
On Monday (26 February), Zubeida appeared on an Egyptian state-run talk show and denied that she had been mistreated or detained. Mahmoud claims her daughter was "forced under torture" to appear on the show.
Ezzat Ghoneim, the human rights lawyer, who first reported Mahmoud's arrest, went missing on his way home on Thursday evening (1 March).
Amnesty International said it was "deeply concerned that Ezzat Ghonim may have been forcibly disappeared."
Ahmed Mohamed, an Egypt researcher for Amnesty International, told IBTimes UK that the arrest is the latest in Abdel Fattah el-Sisi's widespread crackdown against free speech.
He described the current climate in Egypt as "very abrasive and hostile to freedom of expression," citing the arrests of dozens of journalists, human rights activists, students and members of the opposition.
Mohamed said that the charge "spreading false news" is "widely used" to detain journalists and human rights defenders. People found guilty of this charge can face up to three years in prison. If found guilty of "belonging to a banned group", they face up to 15 years imprisonment.
Amnesty said Mahmoud's arrest and Ghoneim's disappearance served as a "reminder of the incredible obstacles faced by those who are striving to defend the basic rights of the Egyptian people."
"The Egyptian authorities have a notorious reputation for the use of enforced disappearances to silence human rights defenders and members of the opposition," the human rights group said. "This appears to be yet another shameless attack on the right to freedom of expression and association."