Six Turkish journalists have received life sentences for their alleged involvement in the failed July 2016 coup to oust President Recep Tayyip Erdogan.
All six journalists are accused of having links to the US-based cleric Fethullah Gülen, who Turkish authorities claim orchestrated the coup. This is the first time that journalists have been convicted of charges relating to the uprising.
Those convicted include Ahmet Altan, former editor-in-chief of the Taraf newspaper, and his brother Mehmet Altan, an economic professor and journalist.
In January, Turkey's highest court ordered Mehmet Altan's release on the basis that his imprisonment had violated his constitutional rights, but a lower court refused to comply.
Prominent journalist Nazli Ilicak was also among those sentenced.
The Altan brothers were accused of giving coded messages in television talks shows and newspaper columns encouraging plotters to seize power, while maintaining their Gülenist network.
Three other defendants were sentenced to life in prison on charges of trying to abolish the constitution and overthrow the government.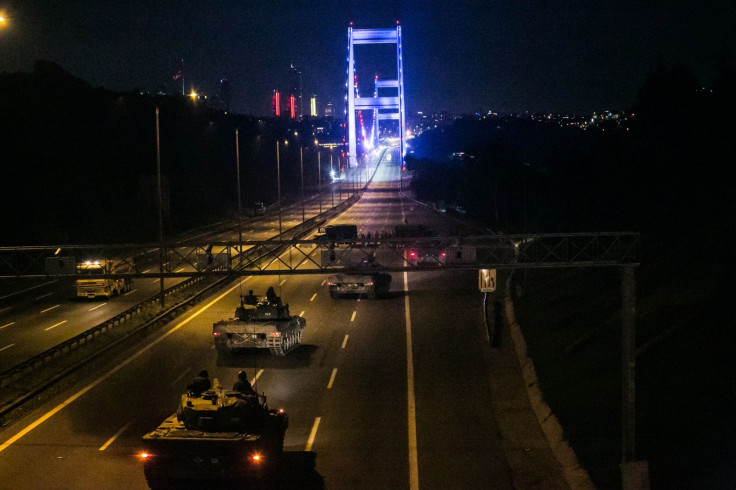 Hürriyet Daily News reported that the aggravated life sentences mean the journalists will be held in solitary confinement for up to 23 hours a day, without parole and with limited visitation rights.
Before the verdict was delivered, the defendants were given the chance to address the court. Ahmet Altan said: "This is the first time in my life that I have been face-to-face with a panel committing a crime against the constitution while on trial. It would be good for everyone to abandon these kinds of unlawful, illegal, unconstitutional acts."
Sarah Clarke, the policy and advocacy manager for the writers' association PEN International, said that the decision marked "an apex of the disintegration of the rule of law" in the country.
More than 250 people died in the uprising, with a further 1,500 injured. Authorities have detained more than 50,000 people and sacked or suspended more than 150,000 accused of involvement.
Gülen remains in self-imposed exile in the US and denies accusations that he was behind the coup. Erdogan critics say he has used the opportunity to tighten his grip over the Turkish army, education system and media.
Earlier on the same day (16 February), a Turkish court accepted an indictment seeking up to 18 years in prison for German-Turkish journalist Deniz Yucel. The court released Yucel - who had been detained without charge for 366 days - on bail, pending trial.
The detention of the Die Welt correspondent was yet another blow to German-Turkish relations, already suffering after several diplomatic spats and disagreement over Turkey's military operation in Syria.