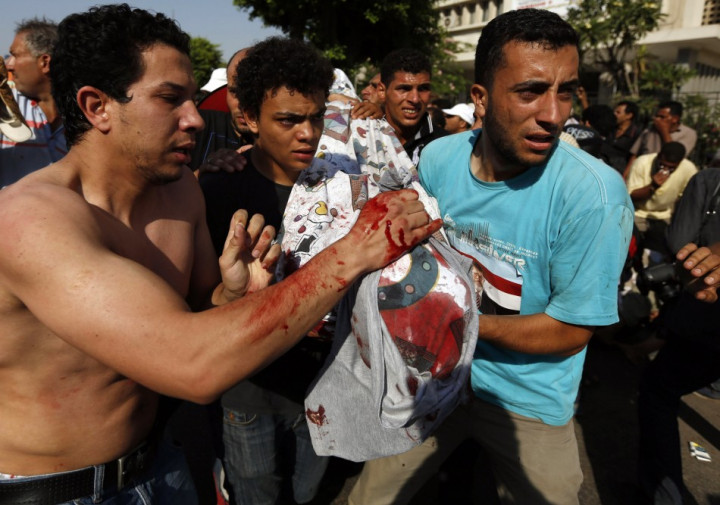 Egypt's interim president, Adli Mansour, has dissolved the Shura council (upper house) of the Islamist-led parliament while Egyptian troops and supporters of ousted president Mohamed Morsi clashed in Cairo and other cities.
Gen Mohamed Ahmed Fareed was appointed head of the Egyptian intelligence apparatus. The move was part of the army "roadmap" that has been implemented after the military osted the Islamist president and took over the country.
Three supporters of Morsi were killed and several wounded by gunfire after Egyptian troops opened fire outside the Republican Guard building in Cairo. Islamist demonstrators and the army also clashed in El-Arish in North Sinai and Suez and Ismailia on the Suez Canal.
An army spokesman denied that the troops had fired on Morsi supporters. He said soldiers were using only blank rounds and teargas.
The military took over after four days of mass protests by millions of ordinary Egyptians demanding the removal of Morsi and protesting against what they said was a betrayal of the revolution that ousted dictator Hosni Mubarak.
READ:
BBC'S Jeremy Bowen Hit by Shotgun Pellets in Cairo
Egypt Coup: State of Emergency in Suez and Sinai after Islamist Attack on Troops [VIDEO]
Egypt Morsi Coup: Who are Adli Mansour and Abdul Fattah al-Sisi?
Egypt Morsi Coup: Arrest Warrants Issued against 300 Muslim Brotherhood Members [VIDEO]
Egypt Morsi Coup: Adli Mansour Sworn in as Interim President [VIDEO]
Ousted Egyptian President Mohamed Morsi Held in Custody by Military [VIDEO]
Egypt in Chaos: Army Tightens Control Over Cairo
Egypt in Chaos: Morsi Allies Denounce Military Coup as Army Deadline Expires [PHOTOS]