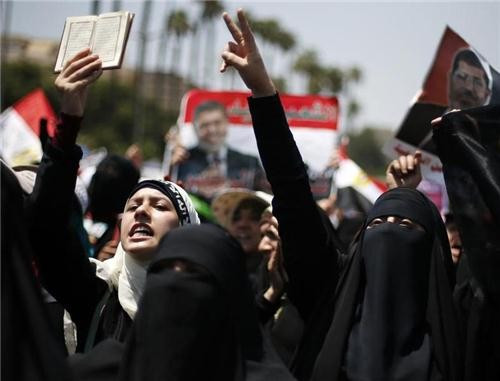 Three supporters of ousted Egyptian president Mohamed Morsi have been killed and several wounded by gunfire after Egyptian troops opened fire on demonstrators as they marched on a barracks in Cairo where the deposed president was being held.
Islamist allies of Morsi called for a Friday of protests calling it "a day of rejection" to protest against the overthrow by the army of the first Egyptian president elected in democratic elections.
Tens of thousands chanted "Down with military rule" as they marched along a boulevard and pledged to continue their demonstrations until the Muslim Brotherhood's leader was returned to his position as elected president.
The military took over on Wednesday after four days of mass protests by millions of ordinary Egyptians demanding his removal and protesting against what they said was a betrayal of the revolution that ousted dictator Hosni Mubarak.
Morsi has been accused of putting power in the hands of his own Muslim Brotherhood and other Islamists.
READ:
Egypt Coup: State of Emergency in Suez and Sinai after Islamist Attack on Troops [VIDEO]
Egypt Morsi Coup: Who are Adli Mansour and Abdul Fattah al-Sisi?
Egypt Morsi Coup: Arrest Warrants Issued against 300 Muslim Brotherhood Members [VIDEO]
Egypt Morsi Coup: Adli Mansour Sworn in as Interim President [VIDEO]
Egypt Second Revolution: Military Raid Offices of Al-Jazeera and Close Three pro-Morsi Stations [VIDEO]
Obama Avoids $1.5bn 'Coup' Label for Egypt's Second Revolution [VIDEO]
Ousted Egyptian President Mohamed Morsi Held in Custody by Military [VIDEO]
Egypt in Chaos: Army Tightens Control Over Cairo
Egypt in Chaos: Morsi Allies Denounce Military Coup as Army Deadline Expires [PHOTOS]