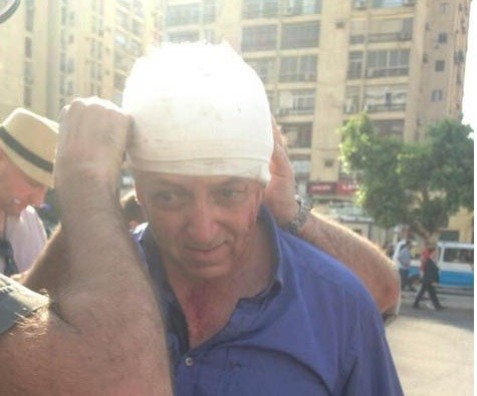 The BBC's Middle East editor Jeremy Bowen has received treatment after being hit in the head by shotgun pellets in Cairo while covering the political upheaval in Egypt.
Photographs of the veteran correspondent, who has covered conflicts in the Middle East and the Balkans for more than two decades, showed him receiving makeshift treatment at a roadside shortly after he was hit.
Bowen posted a message shortly after the incident, which occurred at about 5.30pm local time, stating he was "fine".
"Thanks for the messages. I've been hit by a couple of shotgun pellets. Am fine and heading out," he wrote on Twitter.
Bowen had been at the scene of a rally by supporters of the Muslim Brotherhood protesting at the overthrow of the country's president, Mohamed Morsi.
At least three people were killed by the army as angry Muslim Brotherhood supporters tried to march on the headquarters of the Presidential Guard, where Morsi is believed to be held.
At approximately 5pm, Bowen had reported: "Much anger at site of killing of [Muslim Brotherhood] protestor [in] Cairo. More people arriving from Rabaa al Adawiya direction."
Shortly afterwards, he posted: "Tear gas fired by army at crowd that had gathered round the body of dead protestor."
And several minutes later: "Apache helicopter gunship making low passes over demo."
It was in the ensuing confusion that Bowen was struck with shrapnel, requiring bandaging to the head.
However, he was soon back in action, posting further analysis of the situation from the field.
At around 6pm he tweeted: "Big forces against each other in Egypt. If can't channel this into political action not street conflict it is a recipe for more bloodshed."