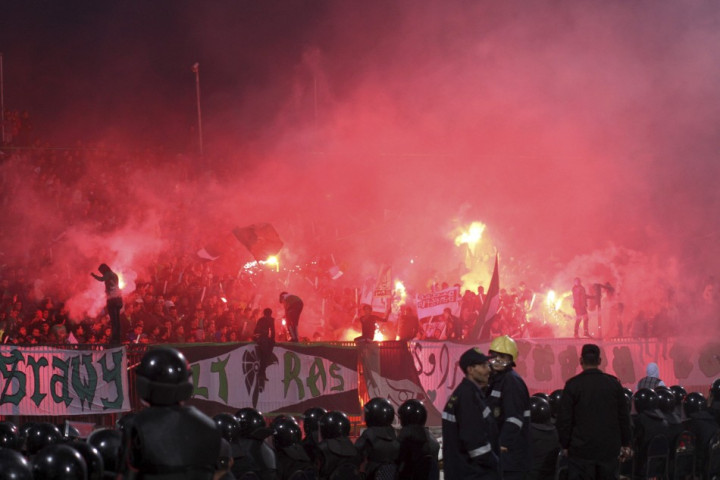 At least 30 protesters have died in clashes with police in the Egyptian city of Port Said, on the second anniversary of the country's revolution.
Two professional footballers and two policemen were reportedly among those killed in the violence, which broke out after a court sentenced 21 people to death for their involvement in violent clashes between football fans a year ago, in which 74 people died.
Tamer al-Fahlah, an ex-goalkeeper with the city's al-Masri football club, and Muhammad al-Dadhawi, a player at al-Marikh, another local club, were both shot dead, according to reports.
The two policemen were killed earlier in the day, when angry crowds descended on the prison where many of the condemned men were being held. Shots were fired when protesters and relatives of the men - mostly al-Masri supporters - massed outside the prison gates immediately after the court delivered its verdicts, according to state media and security sources.
Protesters rampaged through the streets, and witnesses reported a police station was stormed, according to Egypt's state-run Nile TV. Hundreds were injured as police used tear gas to disperse protesters as they tried to storm the prison. The city's state security building was also set on fire.
Supporters of Cairo team al-Ahly - the team that faced al-Masry in the ill-fated match of 2012 - had cheered the court's ruling, demanding the death penalty be imposed and threatening further violence if their call was not met.
"Twenty six people were killed and 277 injured," said Adbelrahman Farag, the head of Port Said hospitals. That figure was later raised to 300 by Egypt's health ministry, with over 30 dead.
Two policemen were among the dead, the interior ministry confirmed, adding that there were "many critical injuries among police forces".
The board of directors at al-Marikh Football Club said it held Egypt's political leadership responsible for the death of its player.
A total of 73 people have been charged with involvement in the disaster, which occurred in February 2012. The violence - Egypt's worst football disaster - sparked riots in Cairo, during which another 16 people died.
Spectators were crushed when panicked crowds tried to escape from the stadium after a post-match pitch invasion by supporters of al-Masry. Others fell or were thrown from terraces.
Most of those sentenced to death on Saturday were al-Masry supporters. The remaining verdicts will be delivered on 9 March, said the judge.
The verdicts have been criticised as a politically motivated attempt to appease die-hard 'Ultras Ahlawy' al-Ahly supporters, who have blocked roads, bridges, and Cairo's metro system over recent days and threatened escalating violence should the verdicts not go their way.
A Greek ship arriving from Israel's Haifa port came under fire in Port Said after rival al-Masry Ultras, known as the "Green Eagles", stormed the gate to the city's main port on the Suez Canal. No injuries or damage were reported, Greece's foreign ministry in Athens said.
"This is a message that we can break into the port and disable the Suez Canal, the most important waterway in the world," an Ultra group member told the Egyptian Independent.
There has been a resurgence of protest across the country in recent months, since incoming president Mohammed Mursi issued an edict that allowed him to run the country until a new constitution was drafted. He later reversed the decision.
Mursi issued an appeal for calm, urging Egyptians to "adhere to the values of the revolution, express opinions freely and peacefully and renounce violence".
Armoured personnel carriers and military police were deployed on the streets of Port Said, witnesses told state news agency MENA.