A worker pushes heavy machinery across a snow-white landscape, breathing in a blizzard of harmful dust. In the limestone quarries of Minya province, south of Cairo, labourers in sandals and makeshift masks use unsheathed rotary blades to cut the white rock into bricks.
The quarry workers plan to go on strike next month. They earn between £6.30 ($10, €8.80) and £10 a day with no medical insurance. Some have lost arms, legs or fingers in accidents, and there is a high risk of various respiratory and skin diseases.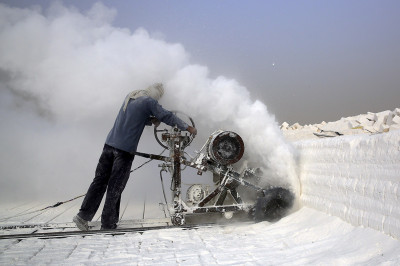 With double-digit unemployment in a nation battered by political and economic turmoil since a 2011 uprising, the quarries attract men unable to find work elsewhere, including farmers and university graduates.
It is estimated that about 45,000 people work in more than 1,500 quarries in Egypt, carving out bricks for construction projects across the country. The limestone is also powdered for use by pharmaceutical and ceramic companies.
However, the exact number of workers in Egypt's limestone quarries is hard to assess, NGOs say, as unlicensed sites employ thousands illegally, including children under the age of 15.