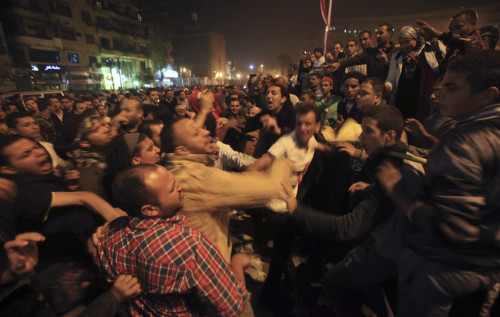 Egypt's tourism revenue plummeted by 41% in 2013, compared with the previous year, following two political coups, heavy violence, and protests.
According to a statement by Tourism Minister Hisham Zaazou, the country's revenue tanked to $5.9bn (£3.6bn, €4.4bn) last year, from $10bn in 2012.
Despite tourism levels picking up in 2012, following the first coup, the industry took another hit last year when hundreds were killed in violence that followed the army's overthrow of elected Islamist President Mohamed Morsi.
Between July and September last year, the number of tourist nights spent in Egypt fell by 57% to about 15 million.
The average visitor's spending also dropped compared with a year earlier.
Egypt's Finances
Egypt has been in turmoil since president Hosni Mubarak was overthrown in 2011.
Egypt also suffers from a range of economic issues, including high inflation and diminishing foreign exchange (FX) reserves.
FX reserves have more than halved since December 2010, standing at around $16bn in May 2013.
This has since fallen further, as Egypt's foreign reserves stood at just $14.9bn at the end of June. They stood at $36bn on the eve of the revolt against Mubarak.
However, it has since recovered slightly as FX reserves hovered at $17.03bn as of last month.
Since Morsi took over, inflation has run over 8% while a number of facets of the economy continue to contract, such as consumption, industrial production and manufacturing activity.
The IMF had many fruitless discussions for months about the loan with Egypt's former Islamist President Morsi until the army toppled him in a coup in July 2013.
Since then Egypt's interim army-backed government has managed to attract emergency backers in Kuwait, Saudi Arabia and the United Arab Emirates.
Collectively, these countries were promised more than $12bn in aid to help Egypt avert a fuel shortage and balance of payments crisis but there have been delays or retractions in a number of loans.
Egypt has so far received around $8bn of a $12bn aid package from Middle Eastern countries.
The Egyptian government said that they are in no hurry to receive help in the form of an IMF loan due to this and last month postponed any decision on taking a $4.8bn loan from the Washington based lender.