Egypt's revolution was born and buried in six short years - and the US shoulders the blame
Barack Obama and Donald Trump have both failed to hold General Abdel Fattah el-Sisi to account.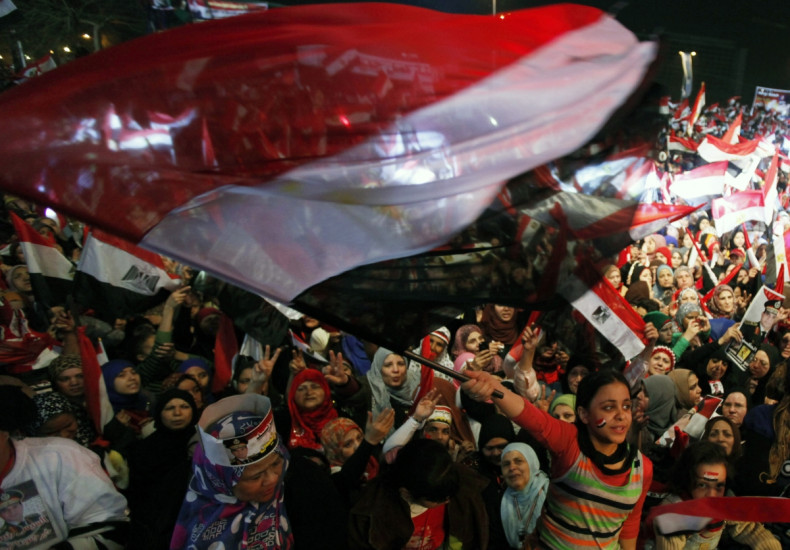 When Egyptians took to the streets chanting for "bread, freedom and social justice", the world watched in awe. Thousands poured into the streets, taking inspiration from Tunisia's Jasmine Revolution, which saw autocrat Zine el-Abidine Ben Ali flee the country.
Plunging the natural world order into chaos, no one could envision that in just 18 days President Hosni Mubarak would stand in front of his people and resign. Jubilation was fierce as celebrations broke out across the country, and the phrase "walk like an Egyptian" became a slogan and dream for other Arabic nations daring to dream and hope for a dignified life.
When Obama stood at Cairo University in 2009 and told the youth he understood their dreams and aspirations, the Arab world welcomed his comments with hope. "I do have an unyielding belief that all people yearn for certain things: The ability to speak your mind and have a say in how you are governed; confidence in the rule of law and the equal administration of justice; government that is transparent and doesn't steal from the people; the freedom to live as you choose."
With those words, spoken in front of America's long-standing ally in the region Mubarak, the sentiment was clear – the US stood with democracy and freedom.
Yet, two years later, when the Egyptians took to the streets to demand the very things Obama had encouraged them to dream for, there was clear reluctance from the US administration to back the protesters.
"People need to see that you not only talk the talk, but walk the walk," Mohamed El-Baradei, an Egyptian Nobel peace laureate, said as the US called for a peaceful uprising and described the situation as "complex, very difficult".
While protesters dodged pellets and tear gas canisters clearly marked 'Made in USA', the measured US response continued, citing an overarching need to prevent an unpredictable power vacuum. Days later, when the tide began to turn, Obama once again reiterated his support for democracy and human rights.
"We have the chance to show that America values the dignity of the street vendor in Tunisia more than the raw power of the dictator. America must use all our influence to encourage reform in the region. We need to speak honestly about the principles we believe in with friend and foe alike."
But if the youth had dared believe they had found support and backing for their voices in the US, they were grossly disappointed. Obama's words were repeatedly tested, and often found lacking.
Nineteen new prisons have been built since the revolution, with a staggering 60,000 estimation for the number of political prisoners, the vast majority of which were imprisoned under the Abdel Fattah el-Sisi regime.
Three years ago, Abdullah al Fakharany, an imprisoned journalist, leaked a letter naming over a hundred journalists incarcerated in Sisi's prisons, and the crackdown on press freedom has been relentless since. Between 1 January to 7 June 2016, the Nadeem Centre for the Rehabilitation of Victims and Violence documented 270 cases of torture and 51 deaths in custody.
NGOs were not exempt from this crackdown. From NGOs that rehabilitate victims of torture, women rights centres and a charity that works to provide a better life for street children, the government has been relentless in closing them down. With judges removed from office, human right defenders summoned and banned from travelling, and media gagged – the Egyptian government is acting with full immunity in the face of American and international silence.
Former dictator and long-time US ally, Mubarak, was placed on trial soon after the revolution. Six years on, he and his sons have been released, while thousands of protesters, journalists and dissenters find themselves behind bars.
The US was so eager to prevent calling the ousting of the elected Muslim Brotherhood leader, Morsi, what it was – a coup – to ensure that the military aid would not be cut off. In a bizarre twist, after promising to support the country's revolutionaries, the US instead finds itself abetting their oppression.
Those detained include American-Egyptian citizen Aya Hegazy, who set up the Street Children charity, a charity that offers shelter, food and education to Cairo's children living on the streets. Since May 2014, Aya and her husband have been detained with no evidence to support charges brought against them.
An American citizen has been left for nearly three years in an Egyptian prison, and military aid is given to those imprisoning her. It seems ludicrous to imagine that American taxpayer money is going towards the detention of a fellow citizen, and that it is simply far too complicated for a phone to be lifted and said, "right, you want that $1.5bn? Release our American citizens."
One could be forgiven for thinking that political oppression is being overlooked in the interests of economy and security. The unfortunate reality however is that Egypt has been plunged into a catastrophic economic crisis. Over a quarter of the population lives in poverty, and a rapid devaluation of the Egyptian pound only means that the figure is set to rise. With burgeoning food prices and ballooning unemployment, Egypt's economic woes are far from over.
As instability rocks the Middle East, it becomes ever more imperative to ensure that a vacuum is not created in Egypt. However the current crackdown on dissent is merely inflaming instability. With 60,000 prisoners, Egypt's cells are a breeding ground for extremism. Sinai, long neglected by the Egyptian government, has proved explosive, with an Isis-affiliated group attempting to take control of the area. Even Cairo has had its share of security breaches and explosions. The government is so intent on cracking down on dissent and silencing opposition that security has to take a backseat.
With a new presidency, Egyptians are unlikely to be optimistic that his term will herald anything new. Days after Trump was sworn in, Washington reiterated its support to the Egyptian regime, saying it will continue to provide the military with financial aid.
During Trump's campaign, he often found an ally in Sisi, who defended the proposed Muslim ban, saying that everything would change when he held office. Sisi also defended the idea of a Muslim registry, arguing that it would ensure "security and stability".
Sisi, the first Arab leader to congratulate the president on winning, cited his "heart-touching truthfulness" as the reason for his victory and suggested further co-operation and military aid. Just as Sisi's rise to power came with a crackdown on press freedom, Trump likewise responded to unfavourable press coverage by condemning organisations such as The New York Times, CNN and Buzzfeed as "fake news" and a "a failing pile of garbage". Between them both, the values of the Egyptian Revolution, calling for self-determination and democracy, seem well and truly dead.
In six years, the Egyptian people witnessed the birth of a dream, and its burial. With instability threatening to rock it at any moment as dissent simmers, an economy in serious decline and massive human right violations left unaccounted for, Egypt's failing is a making of American policy.
---
Noor El-Terk is a London-based writer and a keen advocate for social justice with a particular interest in the MENA region. She tweets at @kelo3adi
---