Egypt's Sisi Begs US for Economic and Anti-Terrorism Aid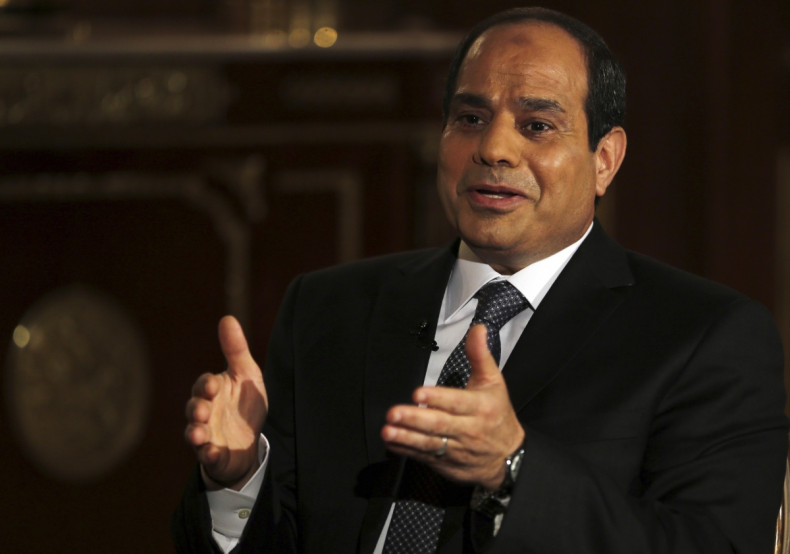 Egypt's president-in-waiting Abdel Fatah al-Sisi has called on the United States to help fight terrorism and provide economic support to bolster the prospects for democracy in the country.
Speaking to Reuters ahead of Egypt's presidential vote on 26 and 27 May, Sisi called for the US to resume military aid, which was previously worth $1.3bn (£775m, €951m) annually.
"We are fighting a war against terrorism," he told Reuters in his first media interview.
"The Egyptian army is undertaking major operations in the Sinai so it is not transformed into a base for terrorism that will threaten its neighbours and make Egypt unstable. If Egypt is unstable then the entire region is unstable," he added.
Washington partially resumed military aid to Egypt in April, after Congress cleared the way for the US to deliver Apache military helicopters to Egypt.
They deal had been on hold since the ouster of Islamist president Mohamed Morsi, Egypt's first elected leader, last summer.
"We need American support to fight terrorism, we need American equipment to use to combat terrorism," he told Reuters.
Sisi, who previously served as Hosni Mubarak's head of military intelligence, stepped down as head of the armed forces in April before announcing his candidacy for the Egyptian presidency.
He led the army to overthrow Morsi last summer and said he was forced to intervene after a massive uprising against Morsi's divisive rule.
"The more time passes the more the vision gets clearer to everyone. People and the world realise what happened in Egypt was the will of all of the Egyptian people," he told Reuters.
"The army could not have abandoned its people or there would have been a civil war and we don't know where that would have taken us. We understand the American position. We hope that they understand ours," he added.
The Muslim Brotherhood was labelled a terrorist group and outlawed in December, while Morsi faces capital charges. Hundreds of Brotherhood members and supporters have been sentenced to death.
Inherent Economic Issues
If Sisi prevails in the vote this month, he will inherit an economy on its knees.
Battered by years of political turmoil and hampered by massive state subsidies, Egypt has shed foreign currency reserves at an alarming rate while relying on foreign aid to remain afloat.
"We have to admit that the economic situation in Egypt is difficult, and not just over the last three years. Egyptians were aspiring to a more stable life than the reality we are living in. More than 50 percent of the Egyptian people suffer from poverty. There is a lot of unemployment," Sisi told Reuters.
Gulf countries Kuwait, the UAE and Saudi Arabia were quick to deliver aid to the Arab world's most populous country last summer, each sending billions of dollars for development projects.
Speaking on Thursday, the UAE's finance minister said there were no plans to send any more financial assistance to Egypt for now. While Sisi did not mention whether he would seek more aid from the Gulf, he said Egypt needed to become economically independent.
"We don't see this as a good thing, frankly, and hope it ends as soon as possible."
Sisi called on Washington to provide the economic backing required to foster a genuine democracy in the country. He said cooperation on the economy and education would help the country fight off terrorism in the long run and enable civil institutions to thrive.
"You want to create democracy in many countries. This is a good thing but it won't succeed in the way it is needed except through good economic support and proper support for education," he said.
"Are you ready to open your countries for us for more education that won't be expensive, to send the intelligent ones among our children to be educated in your countries, to see and learn. This is a way of developing and supporting democracy."
"We will send ... our best youths to go and see and learn and return to us with science and culture. We want the students who cannot pay to get an excellent education so they become the society's elite and can then lead it," he told Reuters.