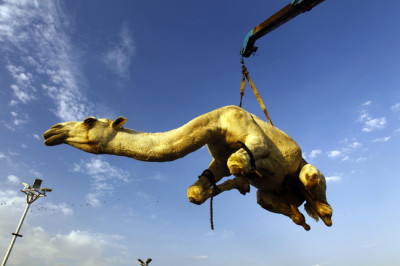 On 26 October, much of the Islamic word stops in order to celebrate Eid al-Adha - the "Feast of the Sacrifice".
During one of the most revered holidays in the Muslim calendar, the faithful slaughter animals - mainly goats, sheep and camels - to commemorate Prophet Ibrahim's willingness to sacrifice his only son, Ishmael, to God.
In the story, God intervened just before Ibrahim was to proceed with the killing and replaced Ishmael with a ram. Ibrahim, who did not realise what had happened as he was looking the other way so as not to see his son die, then sacrificed the ram.
About 100 million animals are slaughtered across the world today as part of the ritual. Much of the meat - halal - is given to the needy.
Markets selling food and all sorts of goods are usually packed with visitors as millions of Muslims return to their hometowns for family celebrations.
The Syrian regime led by Bashar al-Assad said it will adhere to a four-day ceasefire with rebels to mark the holiday.
Hajj 2012: Muslims' Annual Pilgrimage to Mecca at its Peak [PHOTOS]