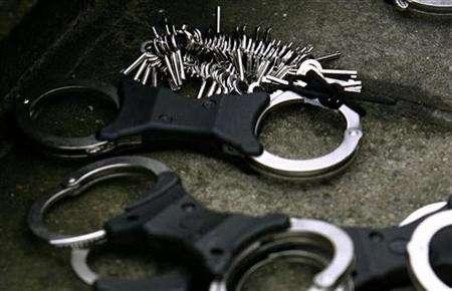 Staff at a US elementary school have defended their decision to allow an eight-year-old girl to be taken into police custody for throwing a tantrum.
Jmyha Rickman was escorted out of Lovejoy Elementary School in Alton, Illinois, in handcuffs because staff said they could no longer manage her behaviour.
She was taken to the local police station where she was allegedly held in a jail cell for two hours.
Alton education officials said that although it was rare for the police to be involved, this was a last resort after the girl "tore up" two classrooms.
"As a last resort we sometime have to involve law enforcement," said Alton schools assistant superintendent Kristi Baumgartner. "They take the student into protective custody when the parent refuses to pick up the child."
Jmyha's family insisted that although they did not condone her behaviour, the school's response was excessive.
They claim that the girl is now suffering from anxiety problems and is afraid to return to school.
Jmyha's guardian, Nehemiah Keeton, told KMOV news station: "If you can't handle an eight-year-old without calling the police, you don't work with kids.
"She didn't have a weapon [or was] threatening to harm anybody."
Keeton added that the girl threw a tantrum because "she asked to use the restroom several times and was ignored".
He insisted that he told school officials that he was coming to collect her when she started causing a scene but they became impatient and called the police instead.
The Alton School Department could not comment on the specifics of the incident.