Northern Ireland's Democratic Unionist Party (DUP) is believed to be considering legal action after the BBC told them they and the other three main Northern Ireland parties won't be included in televised debates leading up to the general election on 7 May.
The first two debates, on 2 April and 16 April, will include the Conservatives, Labour, the Libdems, UKIP, Plaid Cymru, the Scottish National Party and the Greens. However, the DUP currently has eight MPs at Westminster, compared with the SNP (6), Plaid Cymru (3), Ukip (2) and the Green Party (1).
The DUP wrote to the BBC and ITV, both of which are televising the first two debates, to ask why they had not been included. BBC Director General Tony Hall wrote back explaining the decision complied with the BBC's obligations of impartiality - an explanation DUP leader and Northern Ireland First Minister Peter Robinson said was "irrational."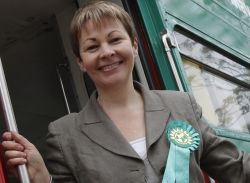 Mr Robinson tweeted: "received irrational response from BBC DG re: debates. No valid reason for DUP's exclusion offered." He continued: "offered excuse that they couldn't invite 1 NI party without the others. Ignores fact that 3 parties currently invited stand in NI."
The DUP may consider legal action, according to the BBC.
Cameron has said he believes the Northern Irish parties - the DUP plus Sinn Fein, the SDLP and Alliance Party - should be allowed to participate in the first two debates. The final debate, a head to head between David Cameron and Ed Miliband, will be screened on Channel 4 and Sky on 30 April.
Speaking yesterday the prime minister - who refused to take part unless the Greens were offered a platform - said: "It was the broadcasters that decided not only to include the Greens, but they then decided to include Plaid Cymru from Wales and the SNP from Scotland and I think the Labour Party and myself both made the point that you can't have one part of the UK - Scotland or Wales - without having another part - Northern Ireland.
"The broadcasters have decided that they want to set the terms for these debates and that is obviously their right to try and do that. But if they suggest something that doesn't quite make sense, then it is perfectly fine, I think, for other people to point out some of the issues."
That remark led to accusations from Labour's Ed Miliband that Cameron was "wriggling and wriggling to try to get out of these debates."