David Cameron's and Ed Miliband's hopes of securing power are up in the air as the latest opinion poll puts their parties neck-and-neck with less than 48 hours to go before the general election.
The YouGov survey, conducted between 3 and 4 May, put both Labour and the Tories on 33%, with Ukip on 12%, the Liberal Democrats on 10% and the Greens on 5%.
The data means that the parties will be short of a 326 majority in the House of Commons as Labour would hold 318 seats and the Tories would win 284 constituencies, according to the Electoral Calculus.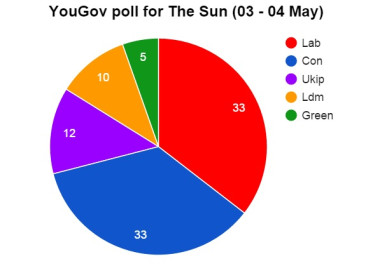 But that predication is without inputting opinion poll figures for the SNP, who are expected to take a swathe of seats from Labour north of the border.
The latest YouGov poll for Scotland put Nicola Sturgeon's party on 49% and Labour on 26%. The data means the nationalists could win 54 out of 59 Scottish seats and severely dent Miliband's chances of entering Number 10 by creating a hung parliament.
The next prime minister, therefore, looks most likely to be determined after the election. Sir Jeremy Heywood, the Cabinet Secretary, has insisted that Cameron can stay in Downing Street even if his party wins less seats than Labour.
The top civil servant told a group of MPs in March that it was important for the prime minister to stay in place until a "smooth transition" could be carried out.
Nick Clegg has been clear that the Liberal Democrats would negotiate with the party with the largest number of seats after 7 May.
Meanwhile, Ed Miliband has ruled out any kind of deal with the SNP following the election after he faced pressure from Sturgeon to form a left-of-centre coalition government.