Ed Miliband and the Labour Party have received a welcome boost to both their election coffers and business reputation from Dale Vince OBE, founder of "green" energy provider Ecotricity.
Vince has announced he is donating £250,000 to the Labour Party and smaller amounts to Green party candidates, including £20,000 in a bid to get Caroline Lucas re-elected. He has never donated to Labour or the Conservatives in the past but says the Tories can't be trusted with the environment.
"We've watched the coalition government systematically undermine not just the renewable energy industry in Britain but the whole green economy and, by default, efforts to combat climate change," Vince told The Guardian.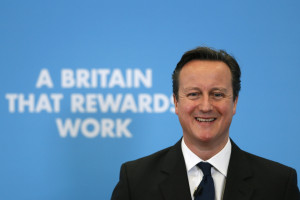 "We feel compelled to act and to speak out. One of the biggest deceits of this government was the claim that green energy support was at the root of high and rising energy bills – the claim behind David Cameron's infamous 'cut the green crap' quote.
"The truth is that despite the recent price cuts, energy bills almost doubled in the past ten years mainly as a result of the rise in the global price of fossil fuels – not support for green energy."
Cameron is said to have made the 'cut the green crap' remark in 2013 and has never quite denied it, leaving green campaigners to feel betrayed by the Coalition. Vince also says Cameron is trying to win Ukip votes by proposing a vote on Britain's membership of the European Union.
"It would be a disaster for Britain to leave Europe," he says. "We face not just that possibility but the consequential breakup of the UK. It's a nightmare scenario."
Vince set up Ecotricity in 1996 and it now has 155,000 customers, many of them having left the "big six" due to their high energy prices. Vince, who according to the Sunday Times Rich List is worth around £100 million, claims most of the money is tied up in the company.
"To me it is priceless and I would never consider selling it."
Labour's Shadow Energy and Climate Change Secretary Caroline Flint said the donation represented a "vote of confidence" in the party's energy and climate policies.
"Labour is the only party with the policies to make Britain a world leader in the green economy, end the scandal of cold homes, and create a fair energy market that works for consumers," said Flint. "As Ecotricity's support shows, this is an agenda that commands support from households and businesses."
However not all Ecotricity customers were happy with the donation to Labour - some took to Twitter to announce they would be switching suppliers.